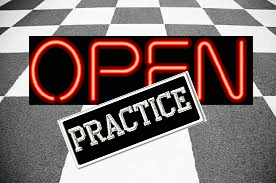 March 22, 2014 Montgomery, Al
Bright sunshine and a beautiful day greeted racers as they arrived at the Historic half mile speedway for a day of test and tune. Open Sportsman, Street Stocks, Mini Mods, Buzz cars and Open Wheeled Modifieds took to the track in alternating sessions. New Head Tech man Wayne Evans and assistant John Robinson were on hand to look over the cars and get to know the racers. Some drivers used the open practice session to log laps and gain valuable seat time while others broke in new motors and some worked out off season bugs that they found in their rides. "It was nice to see more cars on the track and how they handled a raw racetrack, we even had a couple of Montgomery Motorcycle police stop by and test their radar guns, clocking Billy Melvin at 110 MPH down the back stretch in his #134 open wheeled Modified." said Track General Manager Stan Narrison.
The excitement continues next Friday night as Montgomery Motor Speedway will offer one more open practice session with Gates opening at 4 and practice from 5 till 8. Tires and fuel will be available and teams may leave their haulers in the pits for Saturdays race.
The opening night at the races presented by Shelby's Concrete / Builders supply will kick off Saturday with pit gates opening at 1pm Practice starting at 3.
Grandstands will open at 5 qualifying and heat races at 6 and racing at 7.
Opening Night will feature the Open Sportsman class in twin 20 lap features, Buzz cars in twin 8 lap sprints , Mini Mods 20 laps and the Uncle Bob's Self Storage Street Stocks competing in a 30 lap feature. With the stock car racing in the books pit road will be the scene of the Crash and Bang Demolition Derby. Cars will battle it out till the last warrior is left.
Grandstand Tickets are only $10 for adults, $5 for kids 6-12 and children 5 and under are free.
Montgomery Motor Speedway first opened its doors in 1953 and is the Deep South's Oldest Asphalt Speedway. The Half mile track is the home of the Alabama 200 featuring the Southern Super Series bringing some of the most talented super late model drivers to compete at the gem of the south. Sponsorship opportunities are available to fit any budget. Our Private air conditioned VIP suite can accommodate a company outing or private party in our "state of the art" control tower.
Montgomery Motor Speedway bringing you quality racing and family entertainment at an affordable price.