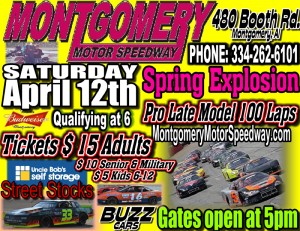 Friday Open Practice for all Divisions
4/11/14 Gates open at 4 Practice from 5-8
Saturday 4/12/14
*Schedule and/or running order subject to change without notice.
1:30 Pit Gates Open/Registration Opens /Tech Opens All Drivers Must have a drivers
registration and W-9 completed before drivers meeting/PLM Race Tires Must be in
Impound area.
3:00 Practice. (Two rounds per class.)
Buzz 10 Min, Street Stock 10 Min, Mini Modified 10 Min, Pro Late Model 20 Min.
5:00 Grandstand Gates Open
5:00 REGISTRATION CLOSED
5:10 MANDATORY DRIVER'S MEETING – All Divisions…… PLM Tires Released
6:00 Heat Races Buzz (5 laps)/ Mini Modified(6 Laps)
Qualify Street Stock (1 Lap)
Qualify Pro Late Models (2 Laps)
6:50 Opening Ceremonies-Invocation-National Anthem
7:00 Feature Races Begin
Buzz Cars (15 Laps)
Mini Modified (20 Laps)
Street Stock (30 Laps)
Pro late Models Autograph session
Pro Late Model 100 lap Feature
NOTES:
All drivers must register and draw for starting position BEFORE 5:00 PM or will start on the rear.
Pro Late Models will qualify (2 laps) and use transponders. Fast qualifier will roll the giant die for inversion of first race. The die is a standard 1-6 die. Pro Late Model must have transponders for practice, qualifying and feature races. Transponders will be issued to you at the registration table near the tech shed. A valid driver's license is required, and will be held until transponder is turned in at the end of your feature race.
Uncle Bob's Self Storage Street Stock will qualify. It will be one timed lap only. Fast qualifier will roll the giant die for inversion. The die is a standard 1-6 die. All Street stocks must run the Uncle Bob's Self Storage window decal to receive purse.
All drivers must complete driver information sheets and an IRS Form W-9 the first time they compete in 2014. A valid Social Security # and/or Federal Tax ID # is REQUIRED on the information sheet. This is only required one time for the entire year, and we will keep it on file for the remainder of the season.
NO DRIVER INFO SHEET = NO PAY!!!!!
Drivers Checks are mailed on Wednesday morning following the race.
Thank You for being a part of Montgomery Motor Speedway