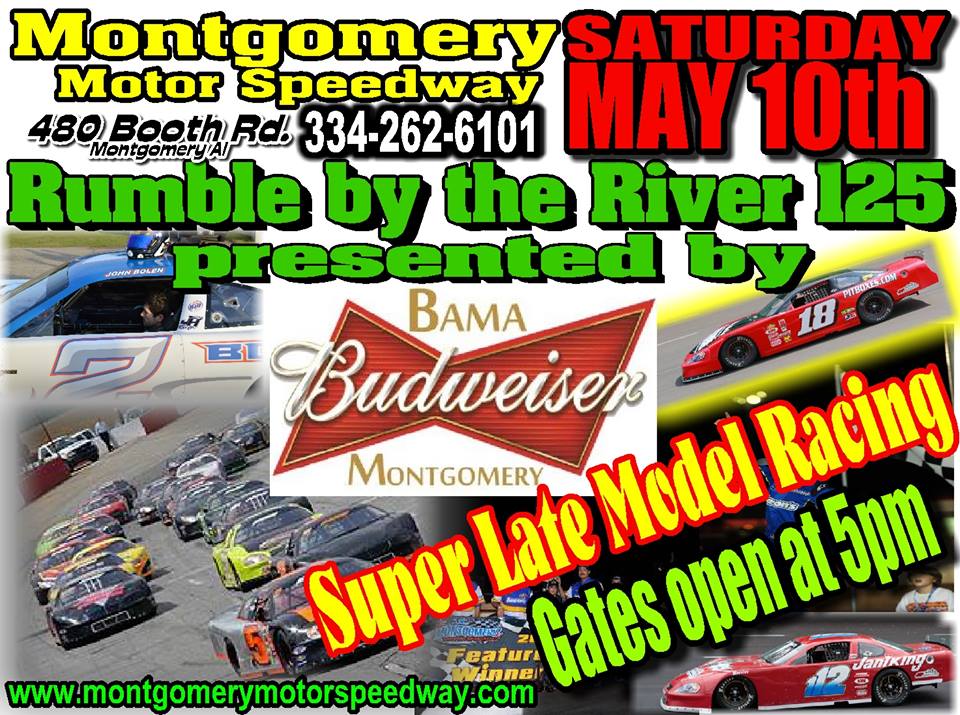 April 30, 2014
Montgomery, AL.
The talk around the Alabama area at this time is about the Southern Super Series and their visit to Montgomery Motor Speedway for the "Rumble by the River 125" presented by Budweiser. With both local racers and drivers travelling great distances the talk around town is "Who is your pick". Hometown hero Hunter Robbins coming off a recent Pro Late Model win at MMS knows his way around the historic half mile. Bubba Pollard coming off his weekend sweep of 5 flags and Mobile International Speedway will be looking to make it 3 in a row. Anderson Bowen currently tied for the point lead with Casey Smith will bring his "A" game to try to hold the top spot. Alabama driver Augie Grill has seen many laps around MMS and should use that experience to bring home the checkers.
Just added to the schedule is a Modified Mini 20 lap feature. Joel Collier looks to stay on his winning ways but expect a strong challenge from Chris Landers as he rebounds from a disappointing outing on April 26th.
Uncle Bob's Self Storage Street Stocks features "The Mayor" Dwayne Wesenberg's #31 tied with Chance Atkins #17 for the top spot. The #31 had issues last Saturday night and plans to bounce back May 10th.
New rides are showing up every race day in the Open Sportsman division as the fans got to meet long time Late Model ace #91 Larry Speakman last week and the track expects some new cars for the" Rumble by the River" event.
Saturday May 10th Pit gates open at noon Grandstand at 5 and racing at 7
Tickets are only $15 adults, $10 military & Seniors, $5 kids 6-12 and children 5 and under are FREE!
Montgomery Motor Speedway first opened its doors in 1953 and is the Deep South's Oldest Asphalt Speedway. The Half mile track is the home of the Alabama 200 featuring the Southern Super Series bringing some of the most talented Super Late Model drivers to compete at the gem of the south. Sponsorship opportunities are available to fit any budget. Our Private air conditioned VIP suite can accommodate a company outing or private party in our "state of the art" control tower.
Montgomery Motor Speedway bringing you quality racing and family entertainment at an affordable price.