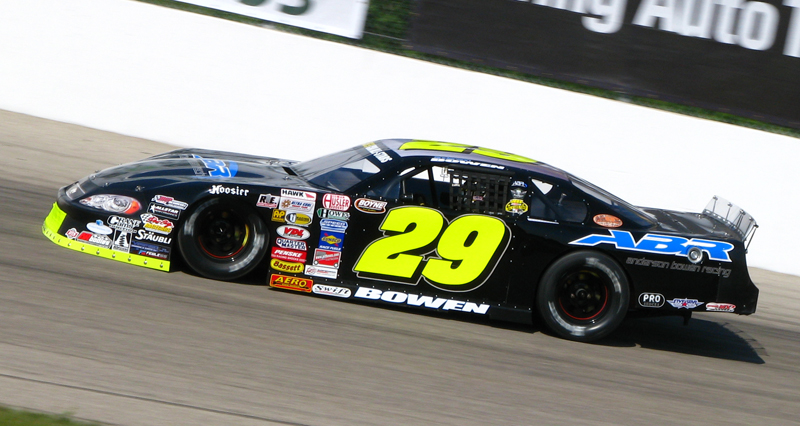 Tied for the top spot with Texan Casey Smith, Bowen Hopes to Come Out on with the Lead.
51 Sports/SSS PR/MMS PR
With eight top 10 finishes already to his credit in 2014 between Pro and Super Late Models, Anderson Bowen is on a mission this year. The Georgia driver now has crew chief Ricky Turner on a full time basis after sharing Turner with Chase Elliott's Pro and Super Late Model efforts in 2013. The pairing seems to be working out well with some strong early season runs that have led him to a tie in the Southern Super Series Presented by Sunoco point standings.
But now Bowen, under Turners Tutelage, wants to turn those strong runs into victories. His next opportunity to earn that first victory will come this Saturday Night at Montgomery Motor Speedway's "Rumble By the River 125."
"We've had a good start to the season so far" said Bowen. "We've come out with some strong runs at Pensacola and we've had some pretty good runs in a pro late model this season I'm pretty sure with how things have been going, We're getting closer and closer each week at each race track we go to. The guys at the shop are giving me better cars week in and week out. We're real happy with how things have started off this season."
With two previous top–five finishes at Montgomery Motor Speedway in the past Bowen now hopes to add a win to those stats in this weekend's Southern Super Series event.
"I think Montgomery is going to be a place that's going to be good to us," said Bowen. "I like the track a lot and my crew chief Ricky (Turner) has had a lot of success there."
Although it is still early in the season, Bowen has his mind on the points going into this weekend's 125 lap event. And rightfully so as the 16-year-old is currently tied for the lead with long time Super Late Model competitor Casey Smith.
"I feel like it is just another race and you treat it like every other race." Added Bowen. "You don't really put that much pressure on yourself as the points leader knowing it is still early. You don't know what could happen going in. Going into the race as the points leader is just a huge confidence booster for me and the team."
But that doesn't mean Bowen will be doing any 'points Racing' at Montgomery, however the Georgia Racer and the crew of the Copper Creek Hardware #29 car are out for victories.
The Southern Super Series Rumble By the River at Montgomery Motor Speedway will take the green flag at 7pm CT and feature the top Super Late Model Drivers in the country. The Night will also feature Open Sportsman, Mini Modified and the Uncle Bob's Self Storage Street Stocks.
Tickets are only $15 for adults $ 10 Seniors and Military
$5 kids 6-12… 5 and under are free.
Mark Your calendar as Montgomery Motor Speedway presents the Night of Destruction May 31st featuring stuntman Rocky Hardcore, Front Wheel drive Demolition Derby, Mini Van Flag pole race and a 50 lap feature for the Uncle Bob's Self Storage Street Stocks.
Montgomery Motor Speedway first opened its doors in 1953 and is the Deep South's Oldest Asphalt Speedway. The Half mile track is the home of the Alabama 200 featuring the Southern Super Series bringing some of the most talented super late model drivers to compete at the gem of the south. Sponsorship opportunities are available to fit any budget. Our Private air conditioned VIP suite can accommodate a company outing or private party in our "state of the art" control tower.
Montgomery Motor Speedway bringing you quality racing and family entertainment at an affordable price.