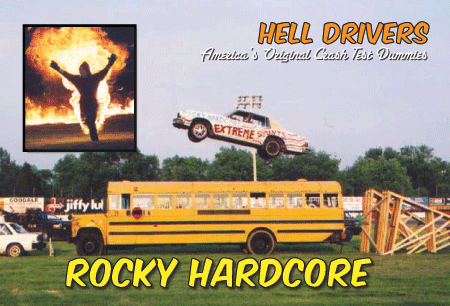 Montgomery Motor Speedway has stretched the limits in the 2014 racing season and Saturday May 31st they may take it over the edge. The speedway will feature a front wheel drive demolition derby, A mini – van flag pole race Plus a nationally acclaimed stunt man "Rocky Hardcore" based out of Owosso, Michigan. Track General manager Stan Narrison stated "The track has had a couple of Nights of destructions before but I don't think the fans have seen a show like this. Rocky has thrilled crowds all over the United States and I think he will have our fans on the edge of their seats".  Rocky was first introduced to Hell Driving on the day he was born. His father, John Hauri, was a performer for the famous Aut Swenson Thrillcade and Hurricane Hell Drivers in the 1950s and 60s. You can still watch him do his "Human Battering Ram" act in the Clark Gable film "To Please A Lady."
Rocky started out in his dad's tire tracks, briefly touring with the Hurricane drivers in the 1970s. He's long been a solo artist, specializing in "hardcore" stunts such as jumping cars over school busses and smashing through tractor trailer trucks.
Hauri spends his summers jumping school buses and "flying" garbage trucks and motor homes at venues across the country. He's a thrill-seeker whose idea of fun is spray-painting an "X" on the side of a motor home and then driving a junk car through it.
"I was 7 or 8 the first time I saw a thrill show, and I was hooked," said Hauri, sporting a "Rocky Hardcore" ball cap.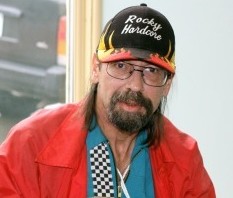 "I do anything from blowing up a car, jumping cars over school buses, crashing into cars. I specialize in flying things people don't think can fly."
This sounds very dangerous, but Hauri insists it's safer than driving on the highway, where crashes are unplanned.
"Life insurance companies think I'm suicidal," he said, sounding annoyed. But "I have a much bigger chance of a crash occurring on the way to or from a show."
While Hauri may not be as widely known as Evel Knievel, he's an accomplished daredevil in his own right.
"I was the first person in the world to do a jump in a motor home towing a boat and trailer, the first person in the world to jump a wrecker towing a car, the second person in the world to fly a full-sized garbage truck, and I want to be the first person in the world to have a school bus standing on its rear end vertically and drive into it with a stock passenger car and flip it over top of me," he said. "Everyone I know says it can't be done."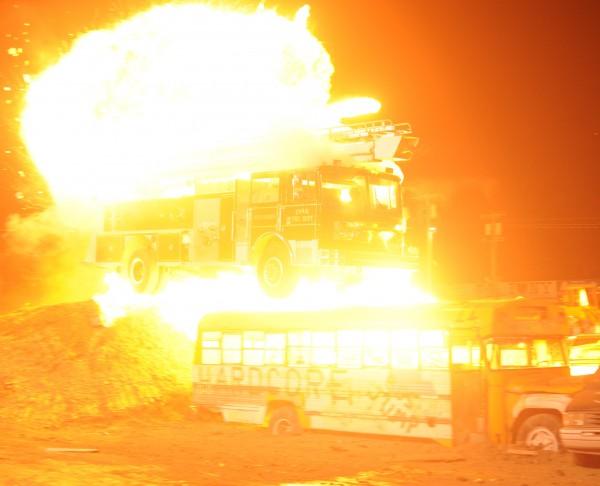 Fans can witness the thrill and excitement on May31st as Montgomery Motor Speedway  along with 4 Star Freightliner present the "Night of Destruction". Also featured that evening will be a Special 50 lap special race for the street stock division. Montgomery Alabama driver Dwayne Wesenberg will try to show his experience around the half mile speedway against a strong field of competitors. Wesenberg, who is currently tied for the point lead with Elmore Alabama driver Chance Atkins looks forward to the extra competition in the 50 lap event. "Bring em on, I have raced this track for years and I think I know my way around it". Other Montgomery area drivers looking to bring home the $1000 prize money for first place include Perry "P2" Patino, David Wood plus Deatsville Driver Johnny  Otto, Prattville's Josh Wilson and a strong contingency of cars from the enterprise and Mobile areas.
May 31st Gates open at 5, Qualifying at 6 and racing at 7. Tickets are only $10.00 for adults, $ 8.00 Seniors and military, $ 5.00 kids 6-12  Children 5 and under are free. For more information you can call 334-262-6101 or on the web at  www.montgomerymotorspeedway.com