June 14th Montgomery Alabama:
photos: Philip Odom
video: Jeff and Adam Otwell
story: MMS media
Race fans were treated to a great set of 50 lap pro late model races on Saturday night. Budweiser qualifying set the field for the first race as Montgomery's Bill Bethea III set fast time 18.930. The top 5 drivers were all under the 19 second mark as some of the top pro late model guns were on hand for this event. Justin South qualified second with a time of 18.932, Jasper, Alabama driver John Bolen Posted a 18.998. and Texan Bayley Curry was right on his heels with a time of 19.000. Crossville, Al driver Chase Oliver piloted his COR Suspension ORC Race car sponsored machine to an equal time of 19.000 and started 5th
The action was fast and furious as the inversion put the #05 of Curry and the #2 of Bolen on the front row. Bolen wasted no time pushing his Robbie White race engines Chevy Impala SS to the lead. The fans saw some of the cleanest and closest late model racing of the year as Leeds, Alabama's Justin South Dogged the #2 car the entire race trying to make the move under Bolen numerous times and even applying a little short track chrome horn. Lap 49 saw the battle get really hot as the pair made contact on the back stretch almost ending the race for the top spot contenders. The pair were able to keep their racecars pointing towards the finish line and the 50 lap contest finished with no cautions.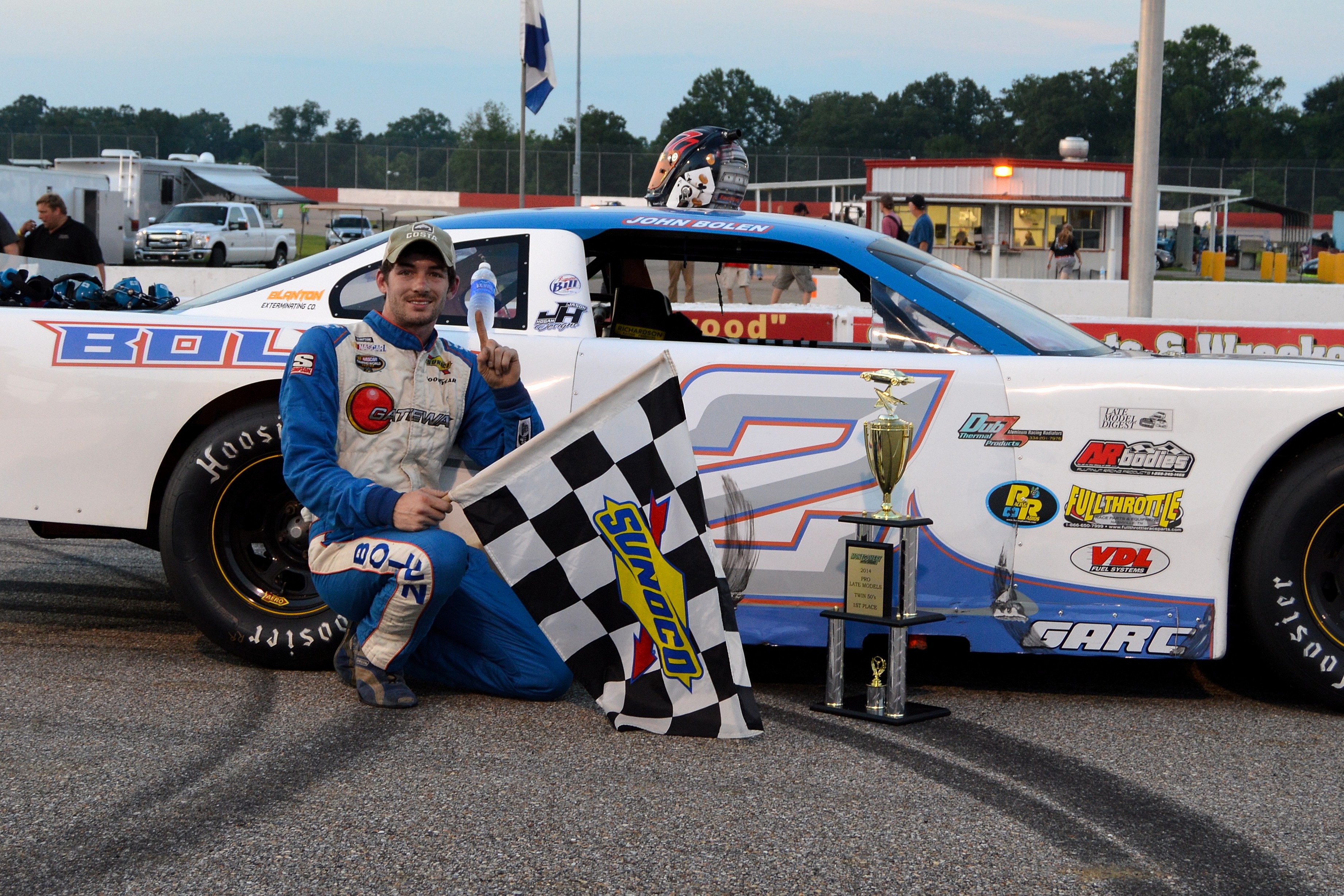 1st  John Bolen #2
2nd  Justin South #43
3rd  Chase Oliver #5
4th  Bill Bethea III #13
5th  Kyle McCallum #2
6th  Chris Serio #3
7th  Jorden McCallum #3
8th  Ryan Redmon #66
9th  Chuck Tuck #17
10th Bayley Curry #05
11th Rusty Sanford #30
12th Bobby Knox Jr. #14
The Kids bike race has become a tradition at Montgomery Motor Speedway and the young racers took to the track next. 2 features were run with a 6 and younger and a 7-12 class. The field was staggered set on age as racers as young as 4 were on the track. The competition was fierce as trophies went to the top 3 in each race. Flags signed by the pro late model racers were also handed out and fun was had by all. A few racers tried to complete the whole half mile track but were chased down by family and brought to victory lane for interviews. Montgomery Motor Speedway expects to see these competitors in race cars in the near future.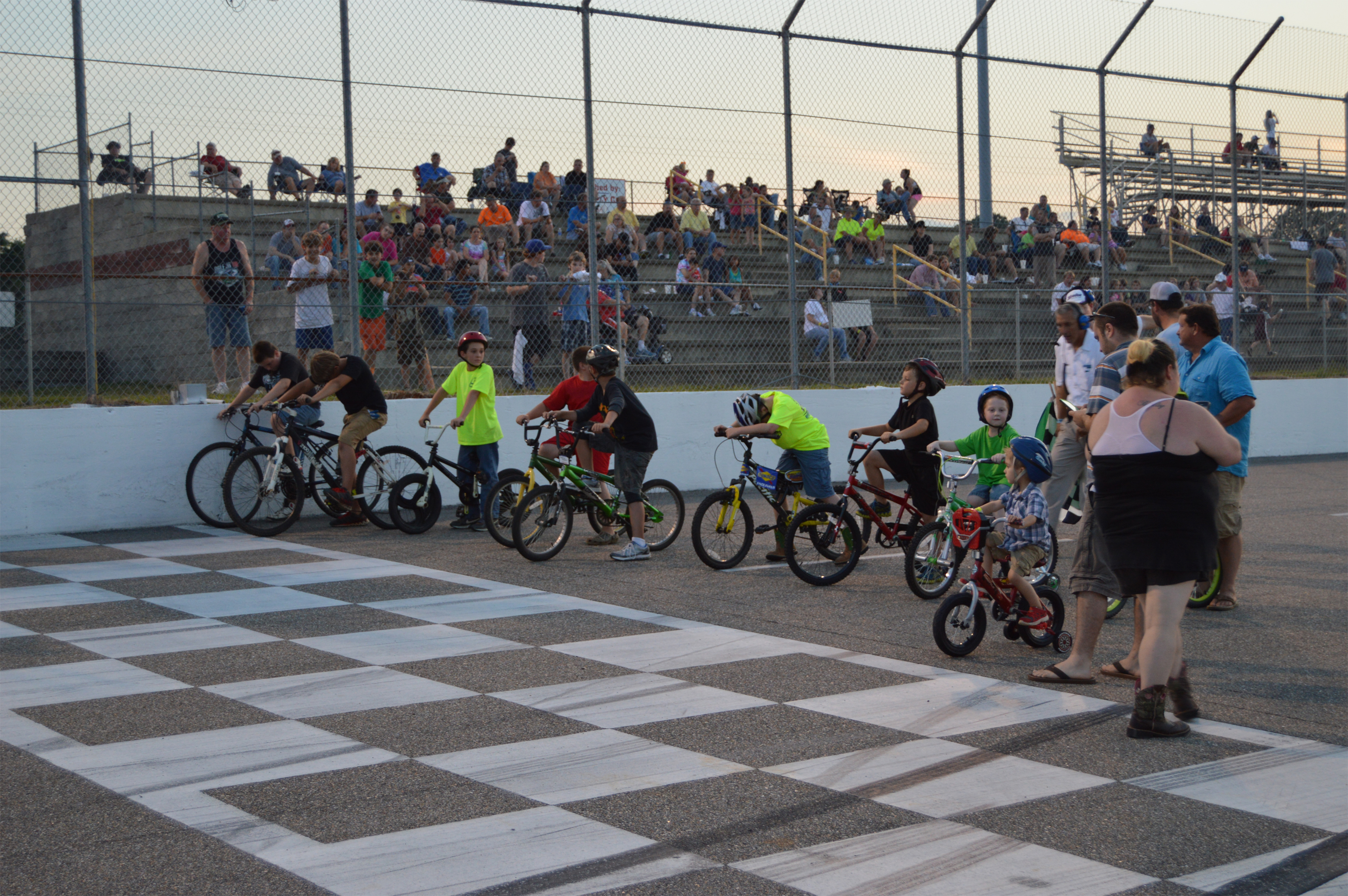 Modified Minis hit the track next on this Father's day weekend. The #11 of Nicholas Doehring started on the pole and got quite a shove from the #9 of Chris Landers both from Deatsville, Alabama. 2012 and 2013 track champion Joel Collier jumped out to the lead and held the position till lap 10. 2011 track champion Chris Landers took the top spot and never looked back continuing his winning ways of late and taking his ford Pinto to Victory lane.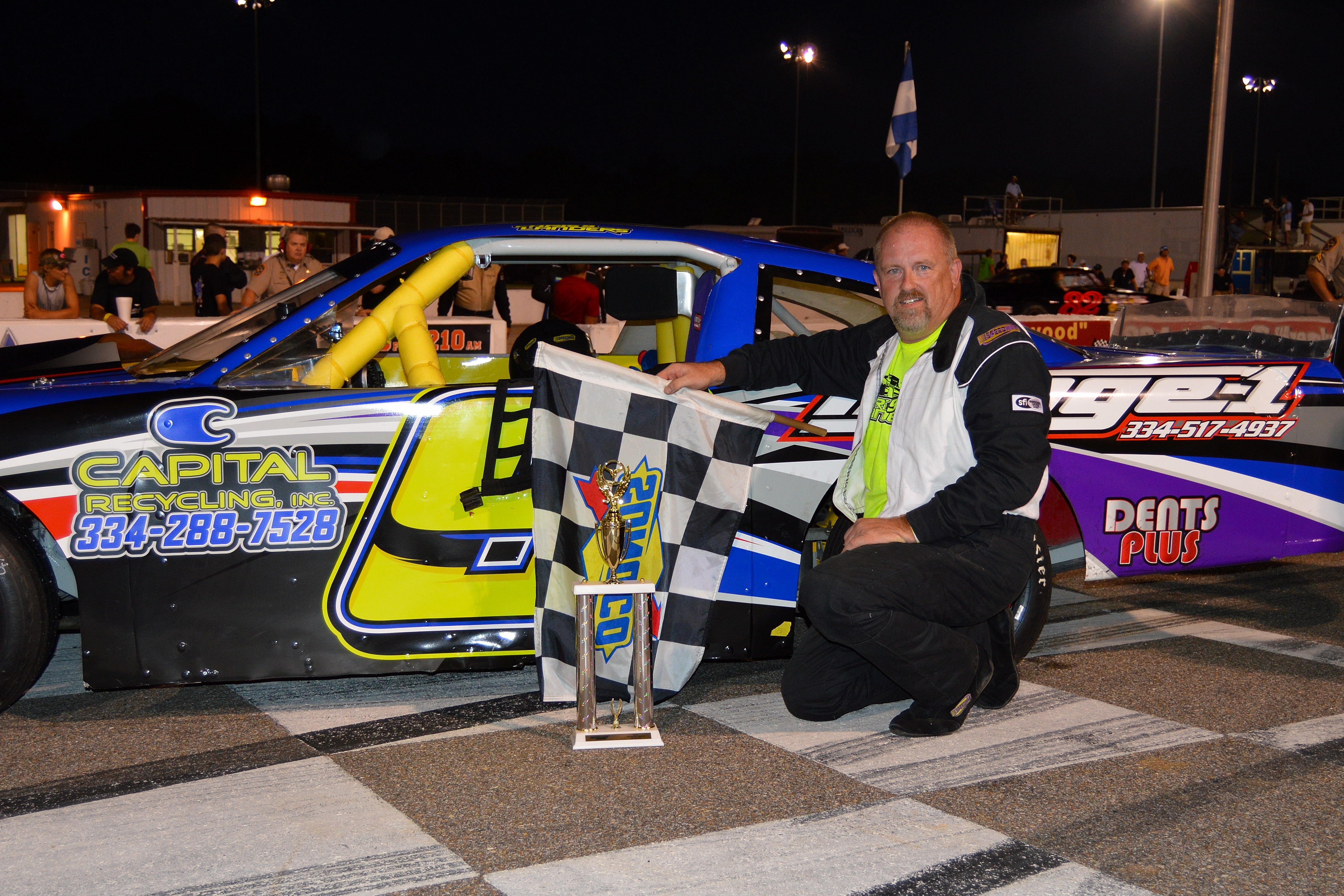 1st Chris Landers #9
2nd Joel Collier #71
3rd Nicholas Doehring #11
Uncle Bob's Self Storage Street Stocks were next on the racing card as fast time was set by Elmore, Alabama's Chance Atkins at 23.167 in Budweiser quicktime pole awards qualifying earlier in the evening. The #31 of Dwayne Wesenberg wasted no time wrestling the lead spot from the other competitors and was stretching it out but an early caution for the #18 Edwards bunched the field back up. Lap 26 saw the yellow flag fly again as the Interstate Batteries #18 made contact with turn 1.
#82  Kameron Wesenberg had a strong night as it seems he has worked out the handling issues on his 1979 Camaro. Josh Wilson from Prattville showed that hard work does pay off as he was able to log some laps and complete the event . During the caution the #17 dipped into the pits for an ignition box issue and returned to restart 3rd. Lap 27 saw a pass for the lead as the #17 saw his opportunity and took over the point. The final lap brought the fans to their feet as the #31 of Wesenberg shoved and bumped the #17 of Atkins trying everything he could short of wrecking him but the #17 crossed the line in first. During post race inspection the #17 crew told tech officials of the problem with the ignition system and their decision to remove a bad chip from the MSD box. #31 Wesenberg was declared the winner and is the current points leader in the Uncle Bob's Self Storage Street Stocks.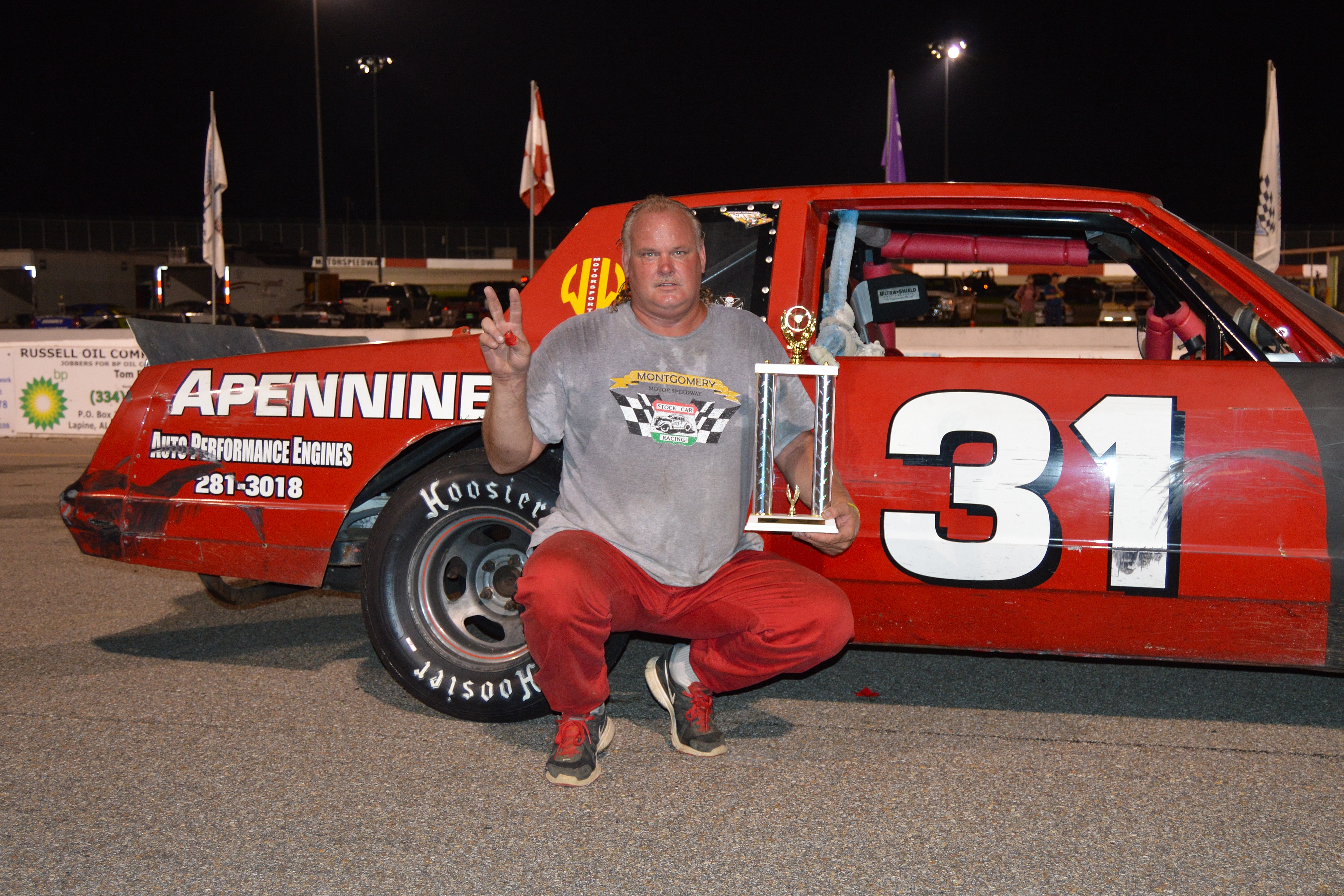 1st Dwayne Wesenberg #31
2nd Kameron Wesenberg #82
3rd Brad Edwards #18
4th Josh Wilson #12
DQ Chance Atkins #17
The final race of the night saw the pro late models line up for the feature. The top ten cars had redrawn for their starting position.
1st  John Bolen #2                redrew position 1
2nd  Justin South #43            redrew position 10
3rd  Chase Oliver #5              redrew position 9
4th  Bill Bethea III #13            redrew position 6
5th  Kyle McCallum #2          redrew position 8
6th  Chris Serio #3                redrew position 3
7th  Jorden McCallum #3       redrew position 2
8th  Ryan Redmon #66          redrew position 7
9th  Chuck Tuck #17             redrew position 4
10th Bayley Curry #05           redrew position 5
11th Rusty Sanford #30
12th Bobby Knox Jr. #14        Not able to start 2nd feature (Mechanical Issues)
The second feature saw the guys mixing it up knowing they didn't need to hold back or save anything. Bolen #2 took his spot in the lead and was hoping for a clean and green race. Lap 3 told him that wasn't going to happen as the #13 of Bethea and #43 of South got together in turn 2 both driving away with only minor damage. On the restart Bolen didn't quite get up to speed and the inside lane bunched up. Sending Kyle McCallum for a wild ride up and over the #17 of Athens, Alabama Chuck Tuck causing McCallum to make contact with the inside wall. Lap 9 saw Chris Serio in the 3c take the point. Serio has been out of a car for almost 2 years and looked good in clean air. Ryan Redmon driving the #66 had a strong run and brought his car home on the lead lap in 4th position. Lap 29 saw Bethea move his way into the lead as #5 Chase Oliver was filling up his rear view mirror. Oliver took the lead on lap 31 and powered his machine out front till Justin South #43 worked his way into the lead on lap 39 after starting 10th and an early spin.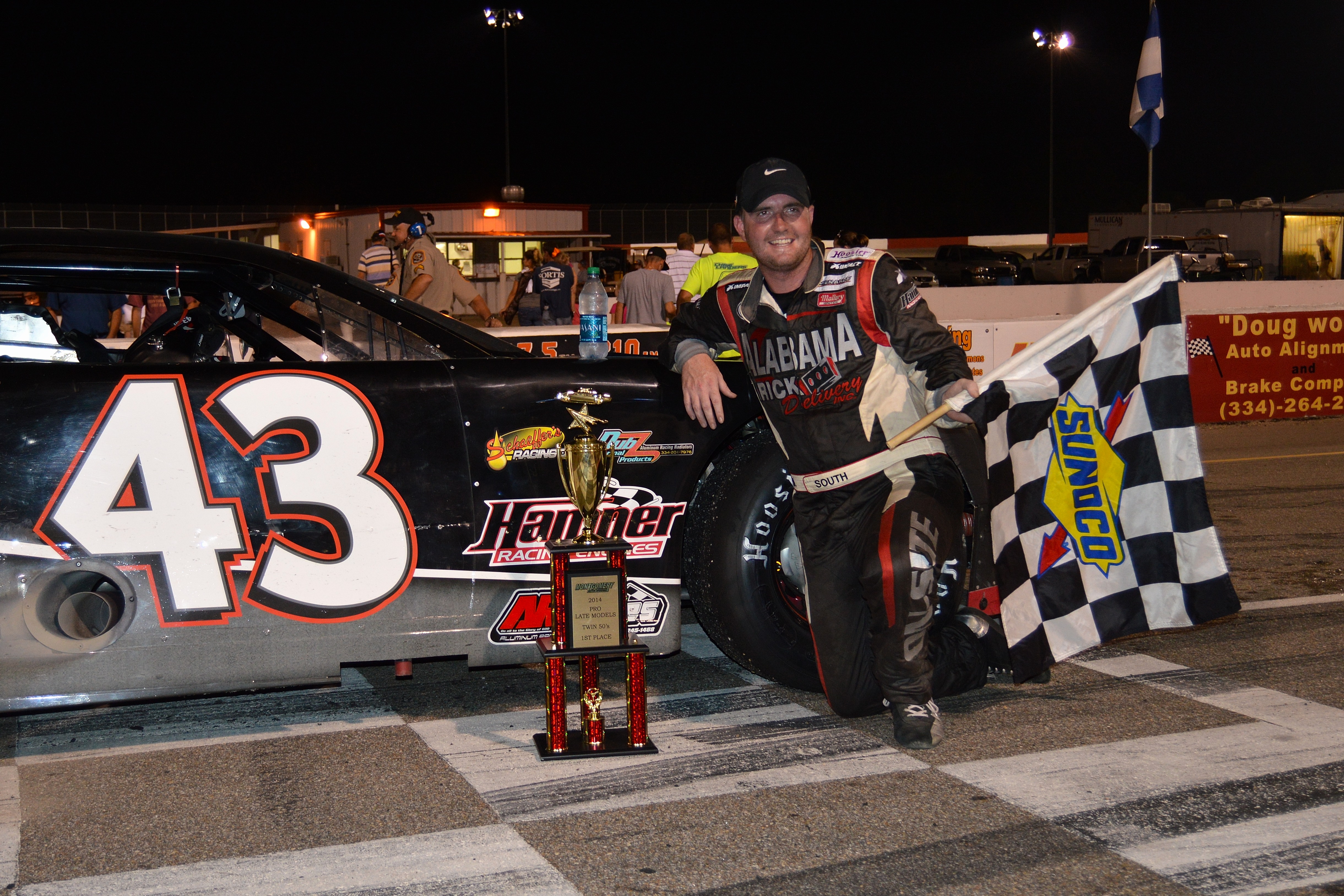 Pro Late Model Feature #2
1st Justin South #43
2nd Bayley Curry #05
3rd Chase Oliver #5
4th John Bolen #2
5th Ryan Redmon #66
6th Rusty Sanford #30
7th Jordan McCallum #3
8th Chuck Tuck #17
9th Chris Serio #3c
10th Bill Bethea III #13
11th Kyle McCallum #2
12th Bobby Knox Jr. #14 DNS
Video by Jeff and Adam Otwell
June 14, 2014

Montgomery Motor Speedway is back in action on June 28th as the Southern Super Series returns for the Yellowhammer 125, Bringing the best super late model short track racers from across the country. Bubba Pollard from Senoia, Georgia will try to make it 2 in a row at MMS but will face stiff competition from Oklahoma's Donnie Wilson, Kannapolis Daniel Hemric, Dawsonvilles Anderson Bowen, local Favorite Augie Grill and many others. Gates will open at 5 Budweiser Qualifying at 6 and racing at 7. Tickets are only $15 for Adults, $10 for Seniors and Military $5 for children 6-12 and 5 and under are always free.for more information call 334-262-6101 or on the web at www.montgomeryspeedway.com
Montgomery Motor Speedway first opened its doors in 1953 and is the Deep South's Oldest Asphalt Speedway. The Half mile track is the home of the Alabama 200 featuring the Southern Super Series bringing some of the most talented super late model drivers to compete at the gem of the south. Sponsorship opportunities are available to fit any budget. Our Private air conditioned VIP suite can accommodate a company outing or private party in our "state of the art" control tower.
Montgomery Motor Speedway bringing you quality racing and family entertainment at an affordable price.