The Oklahoman Inherits Lead After Grill's Crash & Cruises to Montgomery Victory Lane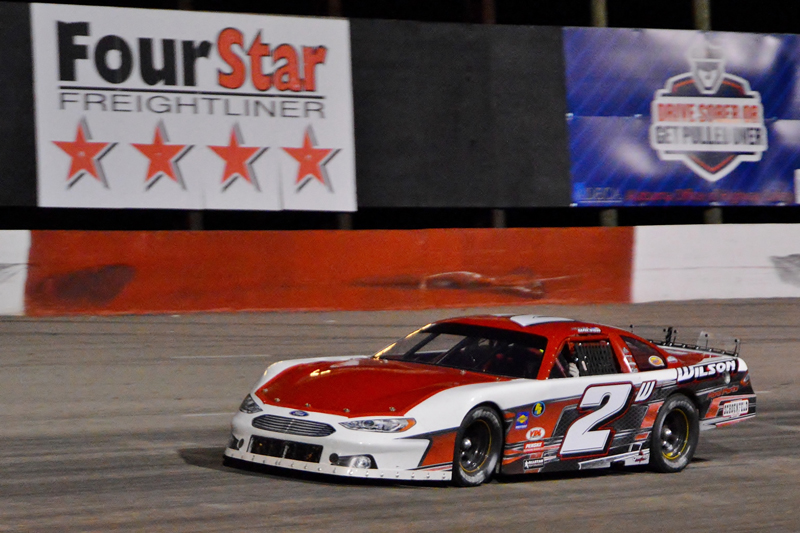 Speed51 / MMS media / photos Philip Odom
(MONTGOMERY, AL) – Donnie Wilson is using the 2014 season to prove that the past year's bad luck is far in his rear-view mirror.
After being shut out of victory lane for a variety of bad-luck reasons in 2013, Wilson, of Oklahoma City, Oklahoma, earned his second-straight and third overall Southern Super Series presented by Sunoco victory Saturday night at Alabama's Montgomery Motor Speedway.
When Augie Grill crashed out of the lead after showing the way for the first 99 circuits, Wilson inherited the lead that he would not relinquish over the final 26 laps. The 43-year-old Wilson then sped away from a torrid battle between Hunter Robbins, Bubba Pollard and Daniel Hemric for second that he was happy to watch from well out in front.
"After Augie's unfortunate incident, it was smooth sailing," said Wilson in Montgomery's victory lane. "He had a great car and I don't know if I had enough stuff to get by him. I tried to get by him in the first 75, but I couldn't get off the corners. We made some good adjustments at the (lap 75) break and it was kind of on a rail after that."
Wilson's best Southern Super Series finish in 2013 was third in the season-opening event in Nashville, Tennessee. That also was his only top-five Southern Super Series finish in 2013. When the 2014 Southern Super Series season-opening event at South Alabama Speedway was rained out and moved to a week later in March, Wilson was forced to sit the race out due to a prior commitment. Since then, Wilson has finished no worse than fourth in seven races with three victories to his credit.
"It's a combination that's working right now," added Wilson. "We put a lot of work into these cars and it's paying off. I won two races in back in 2001 and that's the most I've had in a year. I could end the year now and not have a bad word to say about it."
Augie Grill earned the $500 Southern Super Series Fast Time Award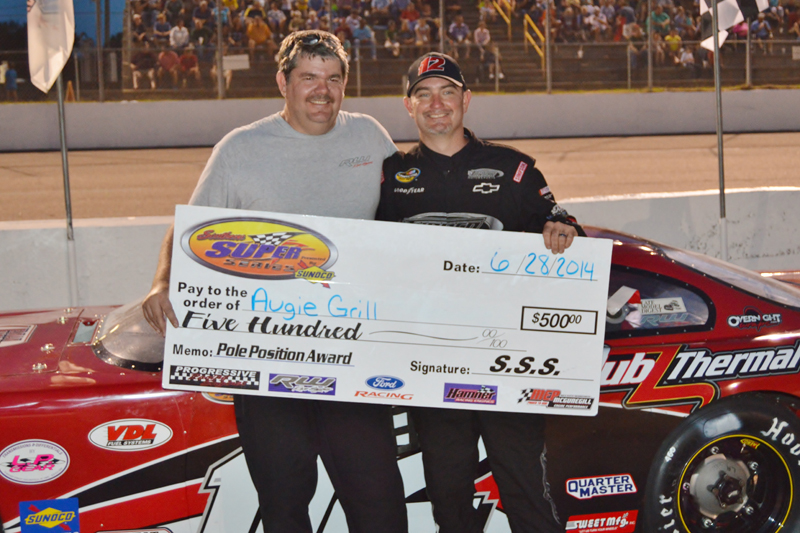 presented by Hamner Racing Engines, McGunegill Engine Performance, RW Engines, Ford Racing and Progressive Racing Engines, in qualifying. Grill, a three-time Southern Super Series winner in 2013, dominated the first 99 laps of the event before making an admittedly uncharacteristic mistake.
"It was a rookie mistake," admitted Grill. "I had all rear brake in it trying to make it turn. The only place I could run was up top. I just ran in there and lost concentration for an instant and it got out from under me."
Montgomery native Hunter Robbins came out on top of a hotly-contested battle for the runner-up spot. He, Bubba Pollard and Daniel Hemric put on a thrilling show for the second spot down the stretch, but it was Robbins who prevailed. It was the best finish of 2014 for the 22-year-old, who competed in his family-owned No. 18 after parting ways with longtime car owner Ronnie Sanders before the Montgomery event.
"It feels good to run good at Montgomery," said Robbins, whose second-place finish was his first top-five finish of 2014. "This car has been great since we took it to the All-American (400) last year. We were able to just fine-tune on it and we had a good piece. The way the race played out and the way the track changed, I couldn't be happier. I wouldn't be here without Dubz Thermal Products and the support of my parents. They really stuck behind me and scraped up enough funds just to show up here. I don't know when our next race is going to be, but we had a lot of fun this weekend."
Pollard, the Southern Super Series point leader, held onto his point lead with a third-place finish. The four-time Southern Super Series winner in 2014 held off Hemric and Anderson Bowen, who rounded out the top five.
Grill, by leading at the halfway point of the Yellowhammer 125, earned a $500 cash bonus from Dubz Thermal Products.
For more information on the Southern Super Series, visit SouthernSuperSeries.com. The Facebook page for the Southern Super Series is located at www.facebook.com/southernsuperseries. For advertising or sponsorship questions, please contact the Stan Narrison @ Montgomery Motor Speedway. For media inquiries, please contact Matt Kentfield at 51 Sports via matt@51sports.net.
SOUTHERN SUPER SERIES PRESENTED BY SUNOCO
Official Finish
Yellowhammer 125
Montgomery Motor Speedway
Montgomery, Alabama
June 28, 2014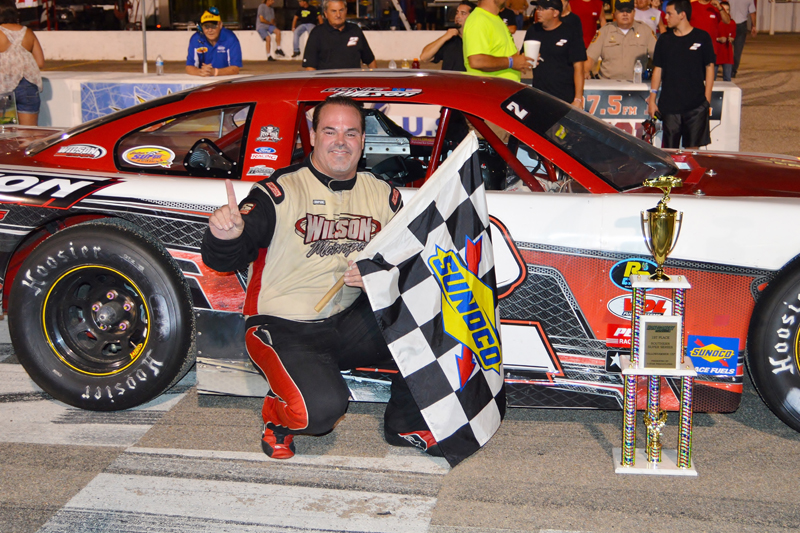 Pos Car Driver Laps
1 2 Donnie Wilson 125
2 18 Hunter Robbins 125
3 26 Bubba Pollard 125
4 98 Daniel Hemric 125
5 29 Anderson Bowen 125
6 99 Casey Smith 125
7 7 Casey Roderick 125
8 31 Kyle Grissom 125
9 68 Landon Cling 125
10 5G Will Gallaher 118
11 112 Augie Grill 99
12 47 Allen Karnes 99
13 97 Clay Rogers 99
14 30 Bobby Knox, Jr. 86
15 12 Harrison Burton 74
16 13 Bill Bethea, III 72
17 46 Spencer Taylor 42
18 5 Chase Oliver 42
Fans were treated to exciting racing in 3 other classes. First up were the Modified Minis. Mechanical Problems were the theme for the night in this division as Chris Landers #9 in the Capital Recycling, Dents Plus, Image 1 D&J Auto Parts Ford Pinto had catastrophic engine failure accompanied by a large fire going into turn one to end his night early. Not long after that incident The #69 car of Jeremy Williams of Birmingham, Al broke an axle going into turn 3 but was able to keep his Toyota Corolla off the wall but ended his night early. 2012 and 2013 MMS track champion Joel Collier was flagged the winner in a shortened feature.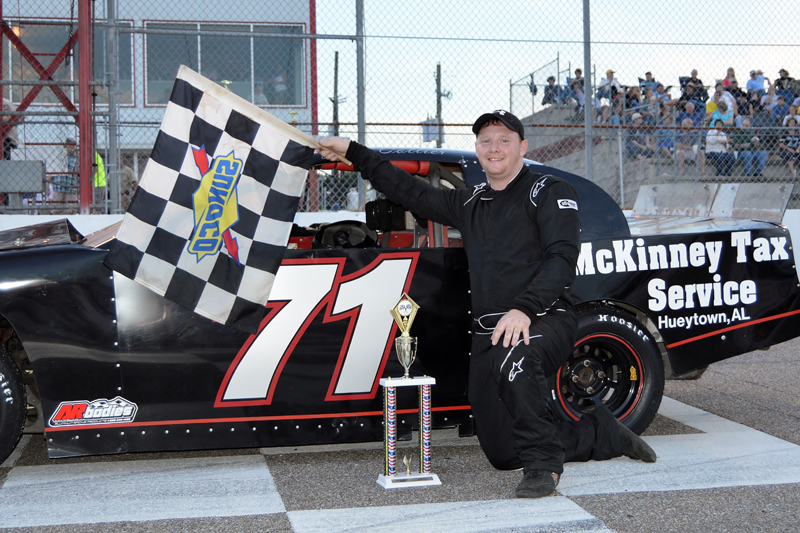 The Uncle Bob's Self Storage Street Stocks rolled out next with some new faces in the field. Fast time was set by the #51 of Montgomery's Perry Patino. Patino Rolled a 2 for the Inversion putting the #18 Camaro of Daniel Parker on the pole for the start of the race. On the start of the race #31 of Wesenberg has contact with #18b of Edwards sending the Interstate Batteries Monte Carlo for a spin. On the restart Patino leads the way till lap 7 as the 18b of Edwards swaps ends again to bring out the second caution of the race. Edwards and Wesenberg both hit pit road for repairs. The #18 was able to return immediately as Wesenberg was in the pits for an extended period of time losing 5 laps to the field. Wood's #24 had Patino in his sight up to this point and took the lead on the restart. Wesenberg returned to competition on lap 13. Lap 15 saw the #18 of Daniels and the #88 of Bubba "Papi" Nesbit spin in turn 1. This was the first race of the year for Nesbit in his bright yellow Camaro. #51 Patino faded in the late laps as he had a tire losing pressure. Elmore, Al driver Atkins moved into the lead past Wood after dogging the Montgomery driver for 15 laps. Another driver visiting Montgomery Motor Speedway for his first time in 2014 was Lee "Red Dog" Reynolds showing great skill handling the much flatter track of MMS than his home track Mobile International Speedway. Reynolds worked his way from the 7th starting position for a solid 2nd place podium finish.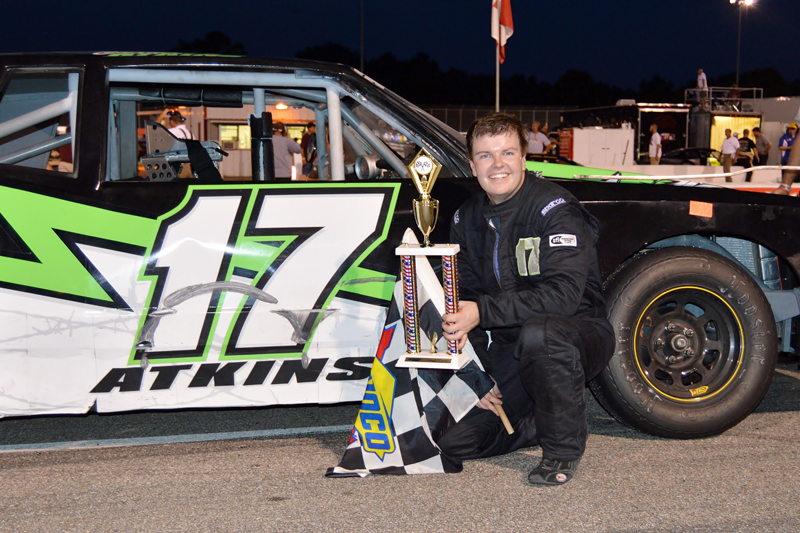 Uncle Bob's Self Storage Street Stocks
1st Chance Atkins #17
2nd Lee Reynolds #32
3rd David Wood #24
4th Kameron Wesenberg #82
5th Perry Patino #51
6th Brad Edwards #18b
7th Dwayne Wesenberg #31
8th Daniel Parker #18
9th Bubba Nesbit #88
Open Sportsman were the last feature of the night and fans stuck around for the fast and furious action. The start saw racecars all over the track as the field headed into turn 1.Gary Nix #99 from Warrior Alabama led the field to green. When the smoke cleared The #91 of Larry Speakman and the #3 of Joe Bethea had made contact and were sent to the rear for the restart. Lap #2 saw a wild crash as a wheel came off the Speakman car and the Birmingham driver went for a wild ride in turn 4.The #19 of Joey holt Continued his hard luck and had to take his machine to the pits early in the contest. #& Justin Caton current 2014 points leader took the point and tried to stretch it out as the other competitors battled it out behind him. The #59 AIR Sponsored car piloted this week by Joe Hudson had a solid run as he stalked Caton for 10 laps. Budweiser pole winner Justin South #22 was back in the Open sportsman division after running a couple of pro late model races in the last month and scoring a win in the second race of a twin bill on June 14th at Montgomery Motor Speedway.South slid into 2nd on lap 12 and filled the mirror of Caton for 17 laps.#21 of Jason Furrow had a strong run after an early spin and brought his Blacksheep woodlands, Mullican Flooring machine to a third place finish. Leading the race Caton got loose coming off turn 2 and spun bringing out the yellow flag on lap 28.South took over the lead and scored his 3rd Open Sportsman win of 2014.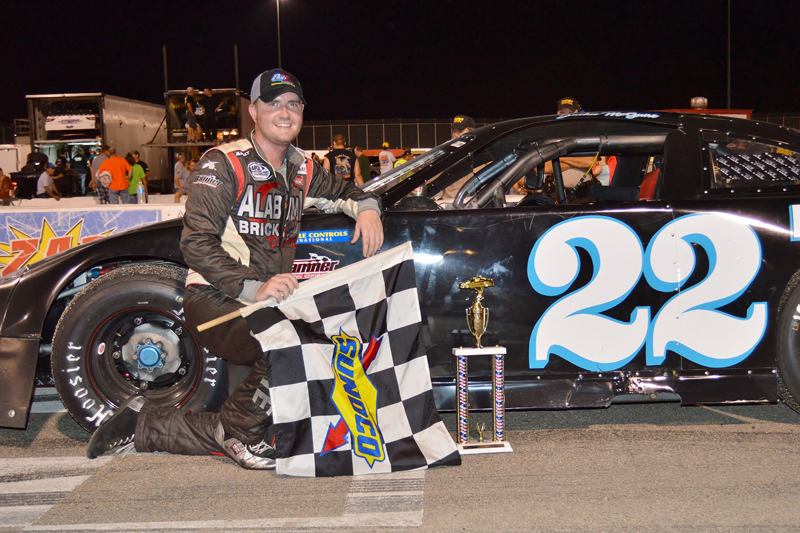 Open Sportsman
1st Justin South #22
2nd Joe Hudson #59
3rd Jason Furrow #21
4th Justin Caton #7
5th Joe Bethea #3
6th Gary Nix #99
7th Larry Speakman #91
8th Joey Holt #19
The Next event at Montgomery Motor Speedway will be July 12 for the Alabama Slammer featuring the ground pounding Open Wheeled Modifieds in a 50 lap contest plus Open Sportsman, Modified Minis and the Uncle Bob's Self Storage Street Stocks. for more Info contact the track at 334-262-61201 or on the web at www.montgomerymotorspeedway.com