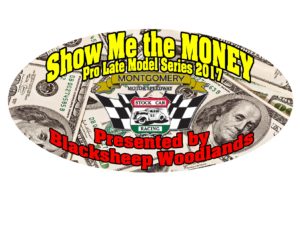 April 25, 2017 Montgomery, Al:
Grill rallied in the second half of Saturday's Show Me the Money 100 to find victory lane for the first time this year, and lay claim to the $500 bounty placed on Casey Roderick.
"They (Roderick's team) brought out their gold wheels and new uniforms," Grill said. "We get the check. It's always fun to have more money."
However, Roderick didn't let Grill ride off into the Alabama night without a fight. A caution with two laps to go cleared out Grill's two-second lead, and set up a green-white-checker shootout for the win.
The two drivers fired in unison on the restart, and stayed side-by-side through turn one. Grill got more forward bite off the corner and cleared Roderick down the backstretch before pulling away by a couple of car lengths at the end.
"When the caution came out, I thought that another race was going to robbed from me," Grill said. "I know Casey is really good on restarts. I figured I had the car to get him and had to hit my marks on the last two laps. Luckily I did and the best car won tonight."
Roderick, who is the defending Show Me the Money PLM Champion and the hottest short track driver in the country, praised Grill's effort, but feels an ill-handling car kept him from a chance at another win.
"Augie is as tough of a competitor that you will find," Roderick said. "He will do whatever needs to do to get a win, and I was willing to do the same thing. However, I just didn't have any grip in the front end. If the grip would've been there, the fans would have seen something special on that last restart."
Grill has adopted Montgomery Motor Speedway as his home track these days, and his legacy as a driver is intertwined with the Alabama half-mile. Grill's second ever start as a driver came years ago at Montgomery, and ended with a runner-up finish.
Since that first start, Grill has scored double-digit wins and a handful of prestigious Alabama 200's at Montgomery.
When he emerged from his car in victory lane, Grill showed an ear-to-ear grin and celebrated not like a driver who has won dozens of events, but like one who had just captured his first. When asked why he was so excited, Grill answered quickly.
"Competition," Grill said. "It's just the feeling of winning against the amazing competition we see. Tonight, we were able to beat the new king of short track racing, Also, doing this for a living, makes you even more proud. I've been doing this for a while, but if I'm competitive I'll be out here with my walker and cane."
Before Grill took control, Christopher Tullis, Roderick and Chandler Smith each spent time out front. The quartet of wheelmen waged a furious battle during the early stages. In the end, Smith finished third and Tullis came home fifth. Bobby Knox, Jr. slotted in fourth.
Veteran Chris Davidson's first Pro Late Model start in a while will go down as one he will remember forever. On lap three, Davidson got turned in front of pack of traffic, clipped by Justin Ashburn and turned on his roof down the front stretch. Davidson's machines slid on the roof all the way to turn one before coming to a stop.
The trip on his roof was a first for the long-time racer.
"Counting tonight, I've been upside down one time," Davidson said. "I got turned and then just saw the pavement through the windshield. My first thought was about fire, but luckily that wasn't an issue."
-By Ryan McCollough, Speed51.com Deep South Correspondent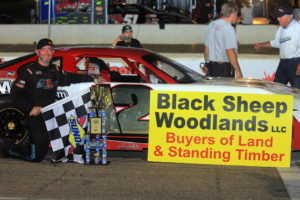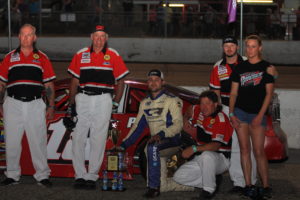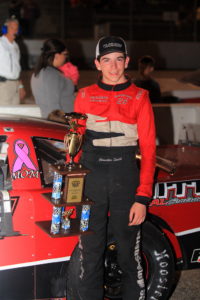 Show Me the Money 100 Unofficial Results
South Alabama Speedway – April 22, 2017
| | | |
| --- | --- | --- |
| 1 | 112 | Augie   Grill |
| 2 | 18 | Casey Roderick |
| 3 | 26 | Chandler   Smith |
| 4 | 30 | Bobby Knox, Jr. |
| 5 | 24 | Christopher   Tullis |
| 6 | 53 | Kyle Ivey |
| 7 | 51 | Perry   Patino |
| 8 | 10 | R.S. Senter |
| 9 | 13 | Bill   Bethea III |
| 10 | 22 | Brandon Herbert |
| 11 | 21h | Ryan   Herbert |
| 12 | 11 | Stacey Crain |
| 13 | 50 | Ty   Roberts |
| 14 | 21f | Jason Furrow |
| 15 | 11m | Jordan   McCallum |
| 16 | 9 | Chris Landers |
| 17 | 48 | Mike   Murray |
| 18 | 4 | Kyle McCallum |
| 19 | 14 | Chris Davidson |
| 20 | 98 | Justin Ashburn |
The Evening featured racing in 2 other divisions.
First on the track were the Coca Cola Street Stocks. once again we saw another new car and 2 drivers from the past. JC Cleckler brought out his beautiful #5 race car to the delight of many race fans. and Cody McCawley was the pilot of the #88 Street Stock.
The Division hit the track 10 strong after #12 Josh Wilson lost a motor in practice. Skylar Strength #17 took the lead from the drop of the green flag. The #38 of Hutchinson was running strong and held the #2 spot for the first 15 laps. Charles Davis #6 continued his strong season by taking the lead and control of the race by lap 20. The #51 of Trey Grimes had another good run as the youngster gets more comfortable in his Camero. Strength in the #17 finished 2nd but failed post race inspection.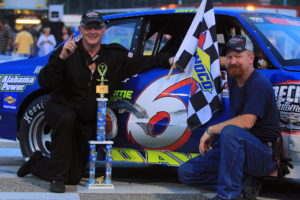 Coca Cola Street Stocks (Unofficial Finish)
Charles Davis #6
Trey Grimes #51
Will Smith #7
Daniel Jacks #1
Brian Hutchinson #38
Terry Grimes #33
JC Cleckler #5
Blake Wilson #82
Cody McCawley #88
Josh Wilson DNS
Skylar Strength DQ
The Modified Minis were the final event and it was Joel Collier setting the pace and getting his 2nd win of the season. The #22 of David Davis had mechanical problems early in the race. The #7 of Rusty Alverson tried but just didn't have enough to catch Collier. Steve Looney finished 3rd after struggling early in the 2017 season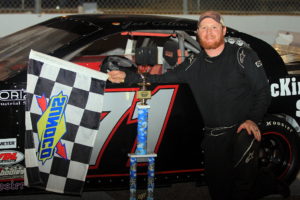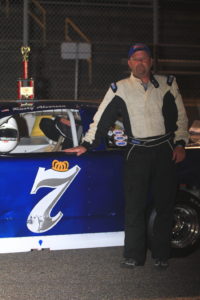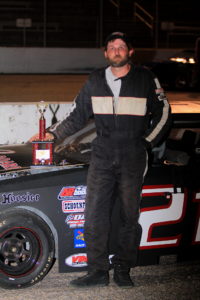 Joel Collier #71
Rusty Alverson #7
Steven Looney #21
Joe Wingard #33
David Davis #22
Montgomery Motor Speedway will be back in action May 13th as we present the Bandit Big Rig Truck Series presented by 4 Star Freightliner. Don't miss the opportunity to see these big trucks on the famed 1/2 mile. The Night will also feature a 75 lap Late Model Sportsman powered by WCI Parts.com and a Pure Stock / Road runner feature. Tickets are $15 for all adults $5 for kids 6-12 5 and under are always free. mms will also offer track side tailgating spots for $20 per person plus $10 for parking in the infield  for more info call the track at 334-262-6101