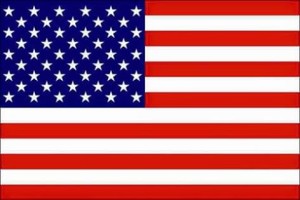 Memorial weekend is the biggest racing weekend around the world. From F1 in Monaco, the Indy 500, Coca Cola 600 it is just natural for Montgomery Motor Speedway to hold the "Show me the Money" Memorial 100 to kick off this great racing weekend. Fans were also treated to appearances by Mrs. Alabama United States Courtney Grill and Miss Alabama United States Sarah Wilkes and the 2 graced the victory lane for pictures with the winners.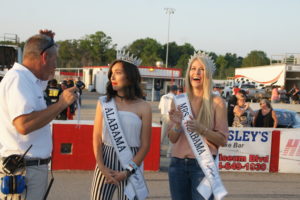 20 Pro Late models presented their cars for competition with 2 cars arriving after Budweiser qualifying. Those 2 cars #18 Roderick and #24 Tullis were able to join the party and start the race in the rear of the field.
A new addition to the racing program was rolled out this evening …. A trophy dash…. 6 cars racing for 6 laps for $100 and a trophy …and a chance to have your picture taken with Beauty queens.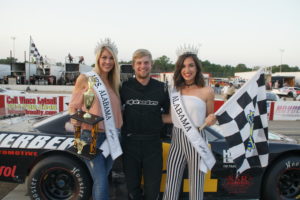 Ryan Herbert #21h
Brandon Herbert #22h
Jason Furrow #21
Justin Caton #7
Aiden Eldridge #8x
Kurt Guillot #17
Budweiser Qualifying saw the car of Augie Grill #112 set fast time at 19.444 with Bobby Knox Jr. on his heals at 19.523 and Jordan McCallum 3rd at 19.571. Joe Graff #12 from Mahwah, New Jersey driving the Jamie Yelton "Fat head racing" machine clocked a time of 19.591 and Montgomery's Bill Bethea III rounded out the top 5.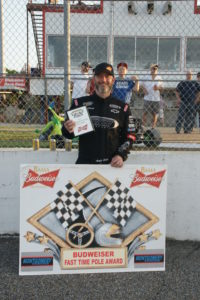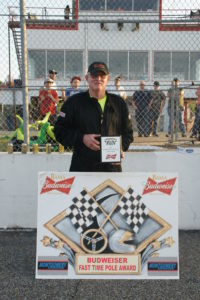 The field for the Street Stocks was set during the last practice session. Lapine, Alabama driver Charles Davis bested the group of 10 Coca Cola Street stocks.
The 1st Coca Cola Street Stock feature was wild. At the drop of the green flag the #6 was shown the black flag and had to serve a pass through penalty for jumping the start.
#51 Trey Grimes was hammer down as he lead the street stocks and claimed his first victory in this division.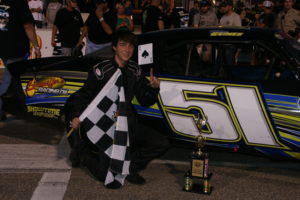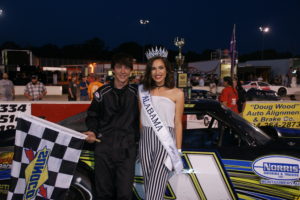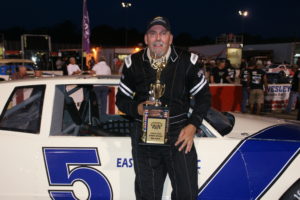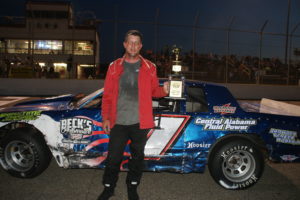 1st feature Coca Cola Street Stocks (Unofficial Results)
Trey Grimes #51
J.C. Cleckler #5
Will Smith #7
Brian Hutchinson #38
Terry Grimes #33
Blake Wilson #82
Charles Davis #6
Devin Gore #74 DNS
#8 DNS
After the "Show me the Money" Memorial 100 the Coca Cola Street Stocks were back on the track for feature #2. The 3 fastest cars quickly moved from the rear of the field to lock into the top 3 spots. At the End it was 2016 Coca cola street Stock Champion Charles Davis #6 in Victory Lane.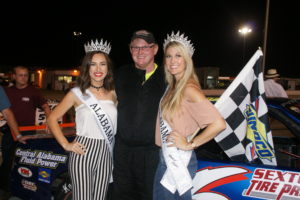 2nd feature Coca Cola Street Stocks (Unofficial Results)
Charles Davis #6
Trey Grimes #51
J.C.Cleckler #5
Brian Hutchinson #38
Will Smith #7
Terry Grimes #33
Blake Wilson #82
Devin Gore #74 DNS
#8 DNS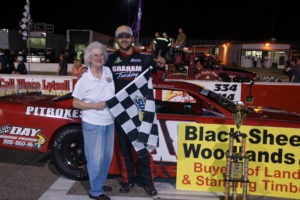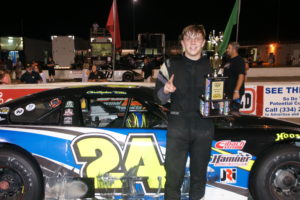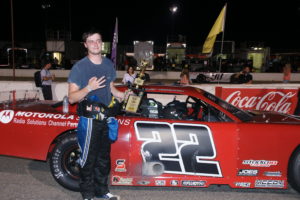 The seeds of Late Model racing's newest rivalry were planted Saturday in Montgomery. While battling for the lead late in the running of the Memorial 100, Casey Roderick and Augie Grill made contact, sending Grill hard into the outside wall and ultimately sending Roderick to victory lane.
"We are going into one, and the next thing I know I get hit on the right side…and I was ahead of him," Roderick said. "Whatever happened there – with him spinning out – I hate that happened. I wanted to race him for the win, but we went after the same piece of real estate. Unfortunately, he got the bad end of it."
A visibly upset and frustrated Grill declined comment on the incident.
After reviewing tape of the incident for several minutes, race officials made the call to not penalize Roderick, and allow him to maintain the race lead.
"Going off of what I saw on tape, Casey held his line," said Montgomery race director Nicholas Rogers. "He may have made a slightly higher entry than he had previously, but I saw nothing out of the ordinary continuous arc in to the corner. Augie made his arc into the corner, and they made slight contact. There was nothing malicious, and the 18 (Roderick) did nothing outside the lines of normal racing."
The lap prior to the incident, Roderick gave Grill a shot in the left rear three times, letting Grill know he was there.
The normally-popular Roderick was met with a handful of catcalls and jeers as he emerged from his car in victory lane. The Montgomery crowd gathered Saturday was, as most are, a pro-Grill contingent.
Racing for the win at Montgomery is nothing new for the duo. The pair has combined for dozens of feature wins and championships at Alabama's House of Speed. But the rough nature of their run in on Saturday added a new twist to their racing dynamic. Just a month ago, Grill and Roderick dueled one another for the win at Montgomery. In the opening race of the year in March, Roderick took advantage of mechanical issues for Grill and won.
Roderick's car owner, Ronnie Sanders, is a tried and true believer in GARC chassis. Those chassis are made in the Alabama shop of…you guessed it, Augie Grill.
"We buy our race cars from him," Roderick said. "We do a lot of business and spend a lot of money with him. Actually, we just bought a brand-new car from him. It's tough racing against the guy who builds your race cars, but we are racing for the same win."
The late-race tangle with Grill shouldn't overshadow Roderick's achievement Saturday.At 2:15 p.m., Roderick was sitting in the infield at Fairgrounds Speedway in Nashville and officials made the decision to postpone their event. The Ronnie Sanders crew loaded up the car, and jetted down I-65 and arrived at Montgomery at 6:45 p.m.
Roderick started on the tail the field, but worked his way from 21st to second in 48 laps. The second half of the race saw Grill and Roderick wage battle door-to-door for several laps on numerous restarts. The decisive battle, and subsequent contact, between the pair occurred with eight laps to go.
Roderick edged Christopher Tullis, who also made the mid-afternoon haul from Nashville, on a green-white-checkered finish to get the seventh win of the season.
"This is number seven for us," Roderick said. "I'm having the time of my life. Honestly, I wish I would've had this success about five or six years ago. I am fortunate to have this opportunity with Ronnie, and look to make the best of it."
Results "Show me the Money" Memorial 100 (unofficial Finish)
casey Roderick #18
Christopher Tullis #24
Riley Thornton #22
Perry Patino #51
Bill bethea III #13
R.S. Senter #10
Ty Roberts #50
Justin Caton #7
Brandon Herbert #22h
Bobby Knox Jr. #30
Jordan McCallum #11m
Josh Adkins #1
Joe Graff Jr. #12
Geovanni Bromante
Augie Grill #112
Jason Furrow #21
Kurt Guillot #17
Kyle McCallum #4m
Aiden Eldridge #8x
Ryan Herbert #21h
Matt Craig #54
Austin Wood #27
The big hit of the night were the Big Wheel races … The competition was fierce and exciting.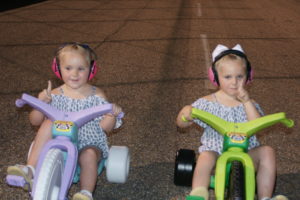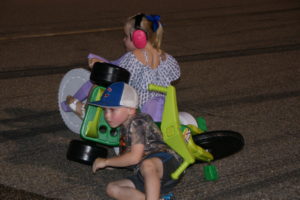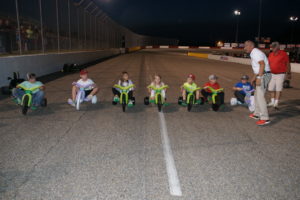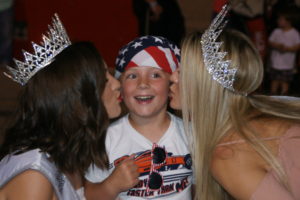 Bentley Norwood
Kinley Bethea
Logan Denham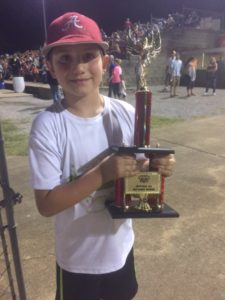 2nd Big wheel Race
Trey Brown
Braden Atchason
Jaxson Kelley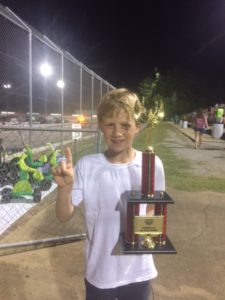 3rd Big Wheel race
Landon Prater
Gunner Hawk
Parker Hilyer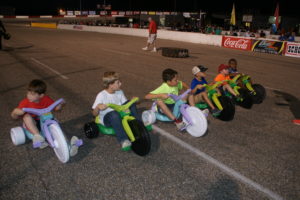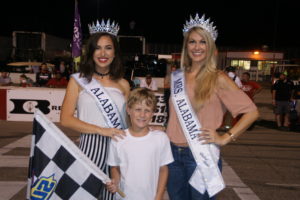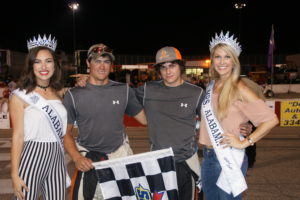 Montgomery Motor Speedway will be back in action this Saturday June 3rd as the Late Model Sportsman Powered by WCI Parts.com, Coca Cola Street Stocks, Modified minis and the Front wheel drive Enduro cars will hit the track for competition. Tickets to this event will be $10 for Adults, $8 for Seniors and Military $5 for kids 6-12 … 5 and under are always free.