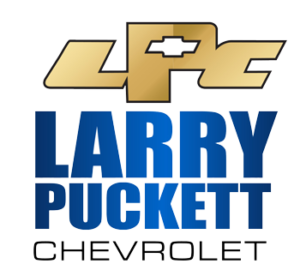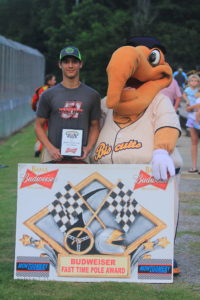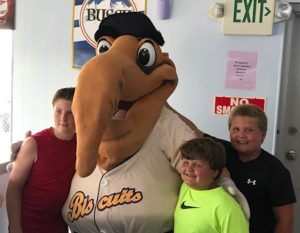 July 2, 2017 • Montgomery, Alabama
Sometimes it really is better to be lucky rather than good. After Saturday night in Montgomery, Donnie Wilson whole-heartedly agrees.
Wilson, who professed to being no better than a "third or fourth-place" car for most of the event, took advantage of a late-race restart stack-up to take home the checkers in the Southern Super Series presented by Sunoco Rumble By The River 125 at Montgomery Motor Speedway in Alabama.
"We didn't have the best car, but we were fast all night," Wilson said. "I have been in a lot races where I had the bad luck. I was fortunate tonight to be on the good end of bad situation."
Fifteen-year-old Chandler Smith appeared to be on his way to his first Southern Super Series win until the glass slipper came off with seven laps to go.
Smith jumped out to the lead on the restart, but was unable to get the car up to full song off turn two. The front four rows of cars stacked up behind Smith's wounded machine, but Wilson and Stephen Nasse were able to changes lanes to the outside, escape the log jam and set sail for the final handful of laps.
Over the final circuits, Nasse searched high and low for a way around Wilson, but never could get a large enough run to make a winning pass.
After struggling to find speed in the earlier practice sessions – including being the slowest in the initial session – Nasse's car came alive during the feature and the Pinellas Park, Florida driver worked his way from his 13th-place starting spot in to contention throughout the event.
"That outside line was just digging," Nasse said. "I was catching guys by two or three tenths a lap. I really think if it would've played out green the whole way, we would've won the race. It was a good night, but in the end, it just wasn't quite enough."
Smith was forced to settle for 10th at the end of a night where he seemingly was headed to a milestone win. Under the caution prior to the final restart, the young driver said the car didn't feel right. When the race went green, his night went south.
"It felt weird under the caution, but I though it may have been a tire cycle. We went off to turn one and it just wouldn't go," a dejected Smith said following the event. "We definitely had a dominant piece tonight, and should've won this race. It is what it is, I guess. We'll be back."
However, the night belonged to Donnie Wilson.
Wilson's win in the Rumble was his seventh career Southern Super Series win of his career, and second in a row at Montgomery. The 2016 SSS champ wrestled home the Black Bear Trophy in last season's Alabama 200 en route to the series title. The trip to victory lane on Saturday also marked Wilson's fourth-consecutive year he has won a Southern Super Series event.
Even though he has won in the Alabama capital before, Wilson said the day race doesn't have much carry over to night-time competition. Mid-race adjustments didn't have the effect he hoped, but his night still ended in victory lane.
"This place is different at night," Wilson said. "It loses grip coming off the corners, and that is where we really struggled. We made some changes at the lap-75 break, and it didn't help. I am very fortunate to win this thing tonight."
Alabama driver Connor Okrezisk finished third, Derek Scott, Jr. came home fourth and Jeff Choquette rounded out the top five.
The Southern Super Series presented by Sunoco returns to the track on July 28 at Five Flags Speedway, home of the Snowball Derby.
-By Ryan McCollough, Speed51.com Deep South Correspondent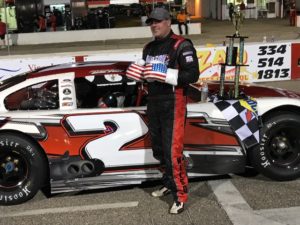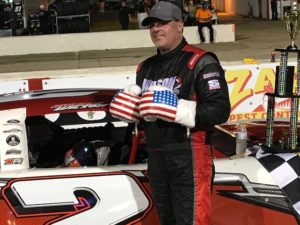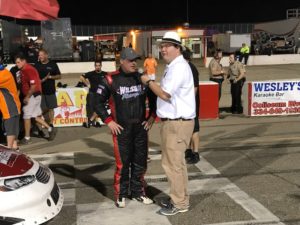 Southern Super Series Rumble by the River 125 Unofficial Results
July 1, 2017 – Montgomery Motor Speedway (AL)
| | | |
| --- | --- | --- |
| 1 | 2 | Donnie Wilson |
| 2 | 51N | Stephen Nasse |
| 3 | 14 | Connor Okrzesik |
| 4 | 81 | Derek Scott, Jr. |
| 5 | 9 | Jeff Choquette |
| 6 | 112 | Augie Grill |
| 7 | 7 | Casey Roderick |
| 8 | 88 | Garrett Jones |
| 9 | 51P | Perry Patino |
| 10 | 26 | Chandler Smith |
| 11 | 4 | Kyle Plott |
| 12 | 11 | Logan Boyett |
| 13 | 51 | Cole Rouse |
| 14 | 98 | Paul Kelley |
| 15 | 98A | Justin Ashburn |
16    2B      John Bolan DNS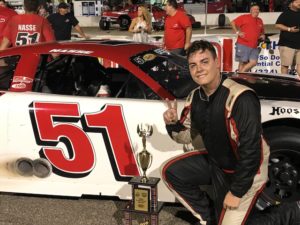 2nd Stephen Nasse #51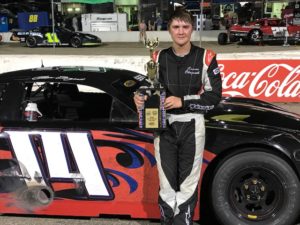 3rd Conner Okrzesik #14
Fast Qualifier        Conner Okrzesik #14      18.949
Lap Leaders          Augie Grill #114            1-80
Chandler Smith #26        81-118
Donnie Wilson #2           119-125
3 cautions             75 Competition Caution
80 #81 Mechanical
Wreck Turn 1 #11 & #4
Super late models were not the only cars on the track as the Modifieds of Mayhem Tour was the first feature of the day. An early shower wiped out qualifying and the field was set on 2017 tour points. Seguin, Texas standout Joe Aramendia #79 and Citronelle, Alabama driver Donald Crocker #5 started on the front row. Aramendia jumped out to an early lead and looked like he would bring home the checkers, but Donnie Hamrac #8 from Semmes, Alabama had a much different idea as he worked his way to the front coming from the 5th starting position. The race ran caution free and Hamrac steadily gained on the cars in front of him taking the lead on lap 25. In the end it was the "Iceman" Donnie Hamrac bringing home the boxing gloves for the Rumble by the River 50.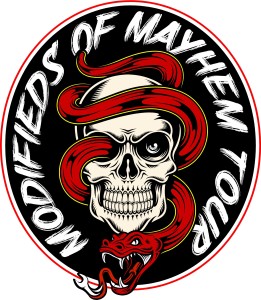 Modifieds of Mayhem Tour Rumble by the River 50 Unofficial Results
#8      Donnie Hamrac
#79    Joe Aramendia
#66    Korey Ruble
#64    Adam Crawford
#72    Johnny Walker
#77    David Capps
#5      Donald Crocker
#80    Davey Lynn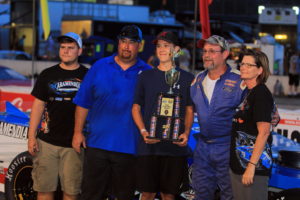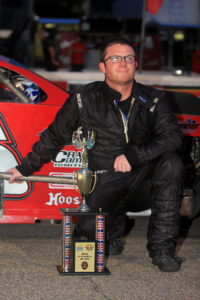 Late Model Sportsman Powered by WCI Part.com rolled out for their 40 lap event. Montgomery's Perry Patino set fast time in the group qualifying session earlier in the day and rolled a 4 for the inversion. This landed Joe Hudson 2016 Late Model Sportsman champion on the pole. The racing was good as several drivers took the point but the pace was slowed by cautions. Things were heating up but Mother nature had the final call as weather moved into the area and shortened the race to 27 laps. At the checkers it was Dave"Darth Mader" in victory lane.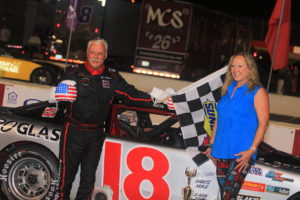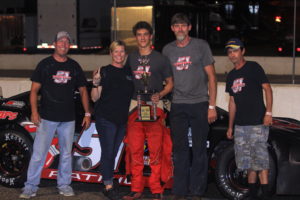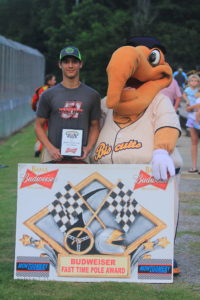 Patino 3rd Place                                                                        Big Mo with Patino
Dave Mader #18
Montgomery Motor Speedway will be back in action July 15th for the "Show me the Money" Beat the Heat 100 sponsored by Blacksheep Woodlands. The event will feature some of the best pro late model drivers in the country. On the undercard fans will witness the Modified Minis in a big lap big bucks special event and the return of the Coca Cola Street Stocks. Tickets are $15 for Adults $10 seniors and Military $5 for kids 6-12…… 5 and under are always free