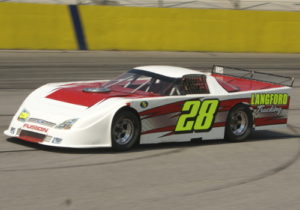 August 3, 2017 Montgomery, Alabama: The Saturday of Speed has been a big late model event since it's inception, and it just got bigger as the Outlaw late models will make their first visit August 12th to the famed 1/2 mile facility. The cars will run under the rules from Crisp Motorsports Park.
http://www.crispmotorsportspark.com/wp-content/uploads/2017/04/2017-Outlaw-Late-Model-rev1.pdf
These cars are late model chassis with a dirt type wedge body. They run on 10″ Hoosier f-45 and are powered by Both crate motors and Built motors.
"We are expecting some pretty good cars for this event" Stated Stan Narrison Track General Manager. "these cars have been racing in Georgia for the past8-9 years and we thought the fans would enjoy seeing some different cars and drivers at MMS"
Payoff for the 50 lap event
$1500
$ 900
$ 600
$500
$400
$375
$350
$320
$275
$250
$200
$175
$150
$140
$130
thru last place $100