Alabama 200 Weekend "The Hunt for the BEAR"
September 14, 2017, Montgomery, Al: The 2017 season came to an end this past weekend as 3 division were decided Saturday night and the other 2 champions only worry was to concentrate on bringing home the Bear.
Saturday started with qualifying and the 3 Local divisions had the chance at the track. Fast Qualifier was the #22 of David Davis as he clocked a time of 23.660. He was followed closely by a driver that was visiting Montgomery Motor Speedway for the first time. Jacob Hill #19 from Jasper, Alabama had a time of 23.670 and Rusty Alverson #7 was third at 23.970.
Coca Cola Street Stocks once again had an impressive field of cars with #33 Joe Bethea Jr. setting fast time at 22.783 followed closely by #6 Charles Davis 22.984 and Rookie #51 Trey Grimes 23.292.
Late Model Sportsman Powered by WCI Parts.com hit the track and Perry Patino #51 led the way with a time of 21.446. Jason Furrow #21 was a blink behind at 21.502 and Jeff Dawkins #2 was only a tenth behind the pole time at 21.559.
The Modifieds of Mayhem Tour returned to Montgomery Motor Speedway for their final point race of 2017. A strong group of cars lined up for the 2 laps of single car qualifying. The field had 2 late model aces and they bookended the top 5 as Augie Grill #112 set fast time of 19.877. 2017 Tour champion #79 Joe Aramendia was second with a time of 19.944. Adam Crawford #64 a driver who has been showing his muscle in the Modified tour lately was third with a time of 19.950. 4th Qualifier was 2015 Modifieds of Mayhem Champion Donnie Hamrac #8 at 19.977 and Casey Roderick #18 piloting the Jimmie Hammond Modified was 5th with a time of 19.980. Only .103 separated the top 5 drivers.
Saturdays Qualifying Day at Montgomery Motor Speedway alleviated the pressure to perform for one team that found themselves at the top of the speed charts for the 53rd Annual Alabama 200.
Bobby Knox, Jr. came into the weekend confident in his machine, despite 21 other drivers all vying for the top position in time trials.  Knox's inkling turned into a reassuring reality as the scoreboard lights reflected the evening's fastest time of 19.228 seconds for the black No. 30.
"I knew we had a pretty good car, we came out here and tested a few weeks ago and I really felt we could get it done."
The Alabama native gave credit to his crew who worked diligently during practice to make the necessary setup adjustments.  The relief that followed qualifying was inevitable for Knox, who noted how rough the year has been up until that moment.
"It's definitely a lot of pressure off of us," Knox said of his success in qualifying.  "It's been a tough year and we've been working really hard these past couple weeks.  We've gone through a bunch of shocks and set-ups.  It's great to have a solid car for tomorrow."
"It's good to come out of here tonight on top, but we've just got to be ready for tomorrow," Knox said.  "Two-hundred laps is such a long distance to go here.  You just never know what's going to happen." Knox earned the $500 bonus put up by Motor Builders Robbie White of RW Race engines and Jeff Hamner of Hamner Racing Engines.
Casey Roderick missed the fast-qualifier mark by 11 thousandths of a second.  Roderick didn't offer much concern, his team already focused on Sunday afternoon's bigger picture, But even the runner up position payed a bonus as DUBZ Thermal Products awarded $250 to the runner up qualifying spot.
"I thought we had a really good lap, we just barely got beat there by [Bobby Knox Jr.]," Roderick said.  "We've got a really good race car, I've been happy with it in practice and it handled well in qualifying.  Knox had a little bit more, but I'm really confident in how it's going to perform in the race, so that's all that matters."
Unlike Roderick and Grill, Chris Dilbeck came into qualifying with a bout of uncertainty.  Dilbeck admitted he's been a stranger to the speedway, attempting to brush off over a decade's worth of Montgomery dust in one weekend.
"I haven't been here in thirteen years," Dilbeck began.  "We really didn't even have a chance to mock up, to have a confident run on sticker tires. It's refreshing to know we've got speed in the car and we can compete with Casey and Augie and all these other guys."
Dilbeck agrees that despite running competitive times in qualifying, the name of the game will be hanging on for the entirety of the race.
Augie Grill, who qualified on the pole for the Modifieds of Mayhem feature and Christopher Tullis, who was fastest in the final round of Pro Late Model practice, rounded out the top five.
Hunt For the BREAR Qualifying…
| | | | |
| --- | --- | --- | --- |
| 1 | 30 | Bobby Knox Jr. | 19.228 |
| 2 | 18 | Casey Roderick | 19.239 |
| 3 | 9 | Chris Dilbeck | 19.302 |
| 4 | 112 | Augie Grill | 19.333 |
| 5 | 24 | Christopher Tullis | 19.400 |
| 6 | 51P | Perry Patino | 19.412 |
| 7 | 43 | Justin South | 19.417 |
| 8 | 46 | Cole Williams | 19.420 |
| 9 | 98 | Giovanni Bromante | 19.446 |
| 10 | 23 | Dalton Grindle | 19.452 |
| 11 | 14 | Connor Okrzesik | 19.466 |
| 12 | 12 | Joe Graf | 19.504 |
| 13 | 21 | Bill Bethea | 19.528 |
| 14 | 27 | Austin Wood | 19.583 |
| 15 | 1 | Josh Adkins | 19.613 |
| 16 | 26A | Willie Allen | 19.623 |
| 17 | 2 | Kaden Honeycutt | 19.693 |
| 18 | 89 | Taylor Jorgenson | 19.708 |
| 19 | 8X | Aiden Eldridge | 19.758 |
| 20 | 11 | Jolynn Wilkinson | 21.258 |
| 21 | 2D | Bubba Deaton | DNQ |
| 22 | 26 AA | Wendell Mobley | DNQ |
| | | | |
The Features kicked off with the Modified Minis and a couple of new comers to MMS. Kassey Rogers #18
coming off of her FWD championship at Sayre speedway. Changed it up a bit by jumping into a rear wheel drive car. She fought mechanical issues all weekend and her night ended early. Jaspers Jacob Hill also debuted his car at MMS for the first time in 2017 and started on the pole. His #19 looked strong but Mechanical issues ended his night on lap 5. That left a 4 car battle with Ashley Bridgemon taking the lead and having another strong run coming off her victory a few weeks ago. #7 Rusty Alverson worked his way to the top spot and the field was only slowed for a spin by the #22 David Davis. Davis and Alverson have been battling all season in a tight point battle and was really pushing his car to get to the front. At the end of 25 laps it was Rusty Alverson taking the win, the Bear and the championship home for the Modified mini division.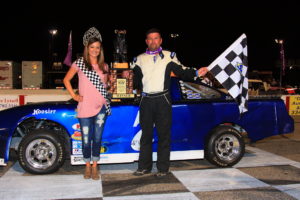 Modified Mini Results (Unofficial)
Rusty Alverson #7
Ashley Bridgemon #2
Joe Wingard #33
David Davis #22
Jacob Hill #19
Kassey Rogers #18
Coca Cola Street Stocks were the next feature and as usual the crowd was on their feet and the action was on the track. The racing was all over the track and a great battle was going on between the #6 of Charles Davis, #33 Joe Bethea Jr. and Trey Grimes #51. All that changes when the #33 Bethea lost his motor on lap 31 sending oil all over turn 3. Dwayne Wesenberg #31 could not avoid the spill and made hard contact with the wall ending his night on lap 31. The race resumed with Charles Davis #6 in the lead and Trey Grimes #51 right on his bumper. Those cars finished 1,2 with Skylar Strength #17 in 3rd and Daniel Jacks #1 4th. (Tech Note The #17 & #1 failed post race inspection moving the #33 into the 3rd position). In the end it was Charles Davis taking home the win, the Bear and the 2017 Coca Cola Street Stock Championship.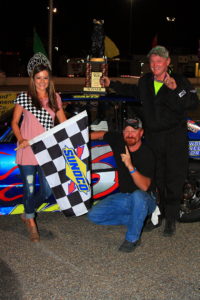 Coca Cola Street Stock Results (Unofficial)
Charles Davis #6
Trey Grimes #51
Terry Grimes #33
Will Smith #7
Billy joe Austin #51
Blake Wilson #82
Joe Bethea #33
Dwayne Wesenberg
Josh Wilson #12
Greg Foley #2
Late Model Sportsman Powered by WCI Part.com had the tightest points battle at the track in 2017. Going into the night #21Jason Furrow had a 2 point lead over #51 Perry Patino and 6 points over 3rd place Dennis Reno Jr. Patino showed his muscle in Budweiser qualifying clocking a time of 21.446. he Also raced his way from the 6th starting spot for a 3rd place finish.The race was slow by 2 cautions for the #21 car spinning on lap 23 and 24. Dennis Reno did all he could to win the championship leading the race from the drop of the green flag till lap 25. Veteran Dave Mader III #118 worked traffic from his 7th place starting position and took the lead on lap 26 and never looked back as he took home the win and the Bear. An intense battle occurred between Furrow #21, Dawkins #2, Reno #x1and Patino #51. Calculators were burning up in the tower as the points were so close that even officials had to double check after the race to determine the champion. Track management would like to commend the top 5 drivers in the Late model sportsman division for the great show that they put on for the fans this season. The racing was clean and these drivers showed their class all season.In the end it was Perry Patino and Jason Furrow tied in points at 314 for the season. As is tradition in short track racing a tie is decided by # of feature wins with Patino having 2 wins in 2017 and Furrow having 1 win. MMS would also like to thank WCI Part.com for the sponsorship of this great division and their continued support of Montgomery Motor Speedway.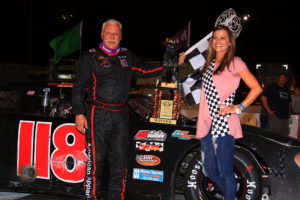 Late Model Sportsman Powered by WCI Parts.com Results (Unofficial)
Dave Mader III #118
Dennis Reno Jr. #x1
Perry Patino #51
Jason Furrow #21
Jeff Dawkins #2
Larry Speakman #8
Mikel Rawls #1
Matt Belter #21b
Bob Gregory 8x
Sunday Sept 10, 2017 Alabama 200 "Hunt for the BEAR"
The Day started with an on track autograph session giving the fans an opportunity to meet their favorite driver up close and personal. This was also a chance to see the cars and vote for the best appearing car. Ballots were handed out Saturday night during qualifying and Sunday day as fans entered the racetrack. Mrs. Alabama Courtney Grill was the sponsor of the best appearing car and donated $500 for the award. The ballots were close but at final tally it was the Open Wheel Modified of James Ellis #22 taking home the $500 bonus from Mrs. Alabama Courtney Grill.
The race started with Grill #112 on the point and a strong field of cars behind him. The racing was exciting as these high horsepower ground pounding machines wowed the crowd. The Field was slowed for a caution on lap 16 as a suspected oil leak from the #16 of Billy Melvin sent the track safety workers out to inspect the racing surface.
Lap 28 saw a spin in turn 2 to slow the field.the cars were lined back up and the fans saw the biggest wreck of the race as contact between the #64 of Adam Crawford and the #79 of Joe Aramendia sent the 2 cars into the wall gathering the #51 of Zach Knowles, #18 of Casey Roderick, #0 of Jordan Key and the #40 of Austin Odom. On the restart 2016 Champion Jeff Letson #131 grabbed the lead but was only able to hold that position for 2 laps. Steady progress by Texan, Johnny Walker#72 and Jasper, Alabama's Rocky Rogers #41 gave those 2 podium finishes. At lap 75 it was #112 Augie Grill with his second victory in the Modifieds of Mayhem Series in 2017.
Modifieds of Mayhem "Hunt for the BEAR 75" Results (Unofficial)
Augie Grill #112
Johnny Walker #72
Rocky Rogers #41
Jeff Letson #131
James Ellis #22
Chris Wagner #9
Todd Jones #9j
Blake Ferguson #07
Davey Lynn #80g
Adam Crawford #64
Joe Aramendia #79
Zach Knowles #51
Casey Roderick #18
Austin Odom #40
Jordan Key #0
Donnie Hamrac #8
Billy Melvin #16
Tim Lynn #18g
This Year the track Management decided to change the Alabama 200 to a Pro Late Model Event. The race would be 200 green flag laps with controlled cautions. This format would allow pit strategies without the need for a professional pit crew. The race was an 8 tire event and really made the crew chiefs think as to when they would take new tires and have what they needed at the end of 200 laps.
Alabama 200 Starting Lineup
| | | |
| --- | --- | --- |
| 1 | 46 | Cole Williams |
| 2 | 112 | Augie Grill |
| 3 | 24 | Christopher Tullis |
| 4 | 30 | Bobby Knox, Jr. |
| 5 | 43 | Justin South |
| 6 | 9 | Chris Dillbeck |
| 7 | 51 | Perry Patino |
| 8 | 18 | Casey Roderick |
| 9 | 98 | Gio Bromante |
| 10 | 23 | Dalton Grindle |
| 11 | 14 | Connor Okrzesik |
| 12 | 12 | Joe Graf |
| 13 | 21 | Bill Bethea |
| 14 | 27 | Austin Wood |
| 15 | 1 | Josh Adkins |
| 16 | 26 | Willie Allen |
| 17 | 2 | Kaden Honeycutt |
| 18 | 89 | Taylor Jorgensen |
| 19 | 8x | Aiden Eldridge |
| 20 | 11 | Jo Lynn Wilkinson |
| 21 | 2D | Bubba Deaton |
The Race had 8 lead changes among 6 different drivers. 22 cars were registered for the event with 21 taking the green flag. The start of the race saw Former Alabama 200 winner Augie Grill take the lead. And after a spin on lap 3 it seemed the race would clock some green laps. But that all changed on lap 8 when contact between the #1 of Josh Adkins and #27 Austin Wood sent the 2 cars spinning and gathered the #89 of Taylor Jorgenson. Unfortunately that ended the night for #27 and #89 although the #1 was able to come to the pits and make repairs so he could continue. The next Yellow flew when contact from the #1 to #11 Jojo Wilkerson sent the young driver for a ride on the front stretch. This ended the day for #1 Adkins. On the restart Bobby Knox Jr #30 and Augie Grill #112 fought hard for the lead and the battle continued. Knox led lap 9, Grill lap 10 then Knox took the point from lap 11 to lap 48. Many different strategies were in play as some teams pitted and some stayed on the track For a lap by lap Rundown Visit Speed 51 at Trackside now coverage.
http://speed51.com/trackside-now-alabama-200-race-day-at-montgomery-al/
Grill took the lead and ran up front from 49 to 57. Roderick pushed to the front on lap 58 and held that position till Indiana's Cole William #46 took over on lap 120 and stayed on point till lap 137. Hot shoe Christopher Tullis from Dacula, Georgia was not to be left out and he took his turn holding the top spot for 11 laps from 138 to 148.
Other notable drivers were the #43 of Justin South taking advantage of the Lucky Dog coming from 3 laps down making a strong run at the Bear and Chris Dilbeck #8 showed he had the speed to compete with some of the best in pro late model racing. Roderick Moved to the front on lap 149 and was looking for the checkers but he had to be aware of the Hard Charging Willie Allen #26 the Tenessee driver always races well at Montgomery motor Speedway and was knocking on the door as the laps clicked off. Chris Dilbeck was saving his equipment for the end of the race but just ran out of laps.
A hard crash on lap 189 took out some major players as the #14 of Conner Okrzesik got together with #12 of Joe Graff and #8x of Aiden Eldridge ending their chances of a podium finish. Young gun Gio Bromante kept his #98 out of trouble all day and ran a smart race passing some good cars at the end to give the New York driver a 4th place finish.
Alabama 200 "Hunt for the BEAR" Contingency and Monetary Awards:
RW Race Engines & Hamner Racing Engines Pole Award $500: #30 Bobby Knox
DUBZ Thermal Products outside pole award $250 : #18 Casey Roderick
AR bodies Hard luck award 50% off complete Body Reskin: #27 Austin Wood
Phil Harper Motorsports Hard Charger award $200: #26 Willie Allen
Day Racing 3rd Place $100 product Certificate: #9 Chris Dilbeck
Earnest Performance Product certificate $250 : #46 Cole Williams
Penske Shock Certificate $250 : #14 Conner Okrzesik
Racing radios Hard Luck Spotters Award $250 product Certificate : #14 Conner Okrzesik
Brake o Meter $100 product Certificate: Christopher Tullis
82 Wrecker $50 bonus 2nd Place: #26 Willie Allen
82 Wrecker $50 Bonus 8th Place: Jolyn Wilkerson
Pro Late Model Posted Purse including cash Bonuses: $30,000
Alabama 200 "Hunt for the BEAR" Results (Unofficial)
Alabama 200 Unofficial Results
| | | |
| --- | --- | --- |
| 1 | 18 | Casey Roderick |
| 2 | 26 | Willie Allen |
| 3 | 9 | Chris Dilbeck |
| 4 | 98 | Gio Bromante |
| 5 | 46 | Cole Williams |
| 6 | 24 | Christopher Tullis |
| 7 | 43 | Justin South |
| 8 | 11 | Jo Lynn Wilkinson |
| 9 | 12 | Joe Graf |
| 10 | 14 | Connor Okrzesik |
| 11 | 8x | Aiden Eldridge |
| 12 | 112 | Augie Grill |
| 13 | 51 | Perry Patino |
| 14 | 2 | Kaden Honeycutt |
| 15 | 30 | Bobby Knox, Jr. |
| 16 | 23 | Dalton Grindle |
| 17 | 2D | Bubba Deaton |
| 18 | 21 | Bill Bethea |
| 19 | 1 | Josh Adkins |
| 20 | 27 | Austin Wood |
| 21 | 89 | Taylor Jorgensen |