Camping:
Guests are welcome to camp at the wood line at the edge of the main parking lot free of charge. There are no water or electric hookups available.
Infield Camping:
Due to space limitations, infield camping will not be available for the Alabama 200 weekend for non-competitors. Competitors are welcome to stay in their rigs/toter homes in the infield. Any motorhomes not pulling race cars may be asked to park outside of the race track, so as not to obstruct the view on race day.
Hotels:
The official Hotel of Montgomery Motor Speedway is Holiday Inn Montgomery Airport South located in Hope Hull, just 12 miles South of the Speedway. They offer a rate of $89/night of speedway guests.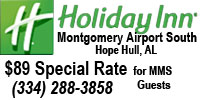 Other recommended areas to stay are any of the motel locations in Hope Hull, Prattville, or East Montgomery near Taylor Road.