Bobby Allison at Montgomery 1965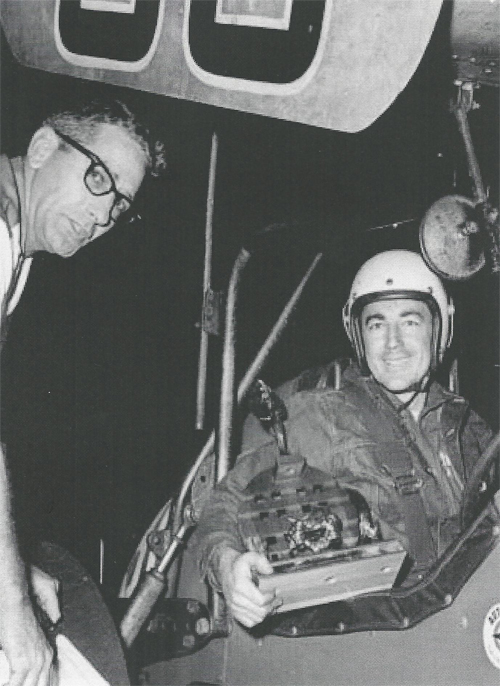 Records show that Montgomery Motor Speedway has been in operation since early 1953, which makes this track the oldest currently operational race track in the State of Alabama.
Montgomery Motor Speedway is rich in it's history and has been a landmark in launching numerous racing careers of some very famous drivers. In order to fully understand where we are now, we must take a look back in time to when the first owner decided to turn his cow pasture into a mega-money maker.
Hang on, here we go!
This track was the First Paved Track in Alabama. Built in 1952 and opened in 1953, it was the home of numerous drivers who later became stars in The Grand Nationals (Now the NASCAR Nationwide Series), The NASCAR Craftsman Truck Series, and The Winston Cup Series (Now the Sprint Cup Series). One group of significant importance was "The Alabama Gang" who called MMS home for several years.
History of The Alabama Gang
Bobby Alison left Miami, Florida in 1959 in search of "racing territory". He had with him his brother Donnie who rode along mainly for the adventure of the whole trip. Also along on the trip were two other Florida youngsters, Kenny Andrews and Gil Hearn. Gil went along to drive for Kenny. As they drove into Montgomery Alabama they spotted a very attractive 34 Chevy modified with a Cadillac engine parked at a gas station. There they met the owner a young man named Bo Freeman. Bo showed them Montgomery Speedway. There they found out that races were being run that very night at Dixie Speedway in Midfield, Alabama. It was a Friday night and away they went. Bobby finished 5th in the heat, 5th in the semi-final, and 5th in the feature. That one night paid more than any one of them had ever won in South Florida even finishing as high as second in a special event. The next night (Sat.) Montgomery Speedway was running so they headed there. Bobby had the fastest qualifying time, won the heat and the semi-final, won the Australian Pursuit race and finished second to Sonny Black in the feature. They then went over to Georgia for the peach bowl in Atlanta on Sunday Night. The next weekend they started at Dixie Speedway on Friday night and Bobby had engine trouble immediately and he did not get to run that night. After the races Gil decided to quit and go back to Florida so Bobby suggested to Kenny that he let Donnie drive, and they left together for Montgomery. Harry Mewborne owner of another winning race car, told Bobby, he would help him by selling him some used parts the next morning. Bobby got a few parts free from Harry and went to Bo Freeman's gas station to patch up his car. Bobby got to Montgomery Speedway late and had to start last in the feature. Boy, what a night! Bobby got his first win even starting last. When the weekend was over, Bobby went back to Miami and told his hero Red Farmer what a great place Alabama was. Red decided to come back to Alabama with Bobby and Donnie. They all made residence in Alabama and soon traveled the Southeast winning races, a lot of races and Bobby, Donnie and Red thus became known as "THE ALABAMA GANG".
MMS was the original home of "The Alabama 300" started by Veteran NASCAR Promoter Uncle Bob Harmon. The track operated yearly until 1998.
Huffman Motor Sports purchased the facility on Feb 5th, 1999. The facility underwent extensive renovations which consisted of a new Musco Lighting System, Catch Fencing, Concrete Retaining Walls, a New Pit Road setup (Pit Walls) that allows for 32 hot pit boxes, 64 concrete parking pads, 64 additional asphalt parking pads, a New Pit Concession Building including a Tech Area, Scales, Tire Sales, Fuel Pumps, water, and waste oil disposal, plus fully plumbed restrooms.
On the Grand Stand side, a new Computerized State of the Art Sound System, and a new Scoreboard. The Concession Stand, Restrooms, Office Complex, Alcohol Sales, Track Store, and Ticket Booths were all constructed. The Old Tower with the sloped floor was torn down and replaced by a double-decker tower consisting of a VIP Suite that houses up to 75 people in a climate controlled room with panoramic viewing of the track with closed circuit TV. Full catering and drink sales are available. The Tower above is perched high above and has two suites, one for Track Officials and one for Broadcasting. There are two patio areas attached for team spotters and video equipment.
In 2006 then owner Bill Manful, leased the track to Hyundai, a local car manufacturer to allow the facility to become a storage site. It was thought that this would be the demise of this famous landmark.
In 2008, Bobby and Mark Knox of Clanton Alabama laid claim to the speedway when they purchased it in an auction from Manfull. After a lengthy and costly legal battle to resume operations of the facility, they obtained a business license in Feb of 2009 and opened as Montgomery Motor Speedway, LLC.
The 2009 season started with several very successful races and the facility just keeps getting better and better.
To view a History of MMS follow the link below!